IGE Welcomes Two New Board Members and Four New Interns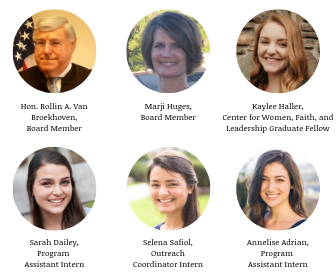 The Institute for Global Engagement is pleased to announce the addition of two new board members and four new interns to our team! Globally-oriented and passionate about service and leadership, we are thrilled that their mixture of experiences and talents will contribute to our mission to catalyze freedom of faith worldwide. As a Christian organization, we operate according to the teachings of Jesus, in pursuit of international religious freedom, through relational diplomacy. IGE President & CEO John Boyd shared, "I am confident that the new additions to our team were brought to IGE for such a time as this to share their talents and help IGE expand our reach to continue to Lord's work building religious freedom for all."
We encourage you to take a moment to meet each of our new team members:
New Board Members:
Marji Hughes brings a strong background in leadership, governance, and community outreach. Marji has over 40 years of operational and leadership experience in the financial services industry and is active in community outreach through her church and work communities. With an M.B.A. and B.A. in Organizational Leadership from Azusa Pacific University, she is an incredible asset to our Board.
Hon. Rollin A. Van Broekhoven brings impressive global experience from serving as the president of the International Committee on Fundraising Organizations in Amsterdam. A retired judge with a versatile background and degrees from the University of Virginia, University of Oxford, and the Hague Academy of International Law, Judge Van Broekhoven is a frequent lecturer and currently serves as a visiting scholar and law professor in several universities in China. With over 40 years of experience on different NGO boards, we are grateful to have his expertise and experience with IGE.
New Team Members: