IGE to Hold Groundbreaking Religious Freedom Programs in Vietnam and Laos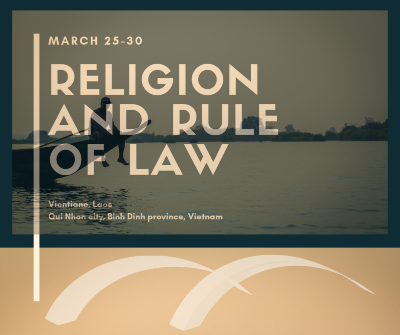 As part of its mission to catalyze freedom of faith worldwide, the Institute for Global Engagement (IGE) will be conducting its annual visit to Vietnam and Laos from March 26-April 3. During this trip, IGE President John Boyd and Vice President of Global Operations James Chen will meet with government officials and faith leaders to learn more about the religious freedom situation on the ground.
In Laos, IGE will hold an unprecedented conference on "Religion and the Rule of Law" from March 26-27 in Vientiane. The event will be hosted by Laos' Ministry of Home Affairs' Department of Ethnic and Religious Minorities. Over 100 government officials as well as several leaders from each of the four official religions of Laos will gather to discuss human rights, models for protecting religious freedom, and the governance of religious affairs. International scholars and key Lao officials will also present papers. Throughout the conference, there will be opportunities for open dialogue on the governance of religion and religious freedom. This will be the most high-profile event on religion in the nation's history and is the fruit of years of IGE's engagement and relational diplomacy.
In Vietnam, IGE will hold a "Religion & Rule of Law" certificate training program from March 27-30 in Qui Nhon city, Binh Dinh province. The training will convene over 100 government officials and faith leaders from south-central provinces of Vietnam to address international standards of religious freedom and legal protections of religious freedom in the country. This year's training will mark the 8th training of its kind held in Vietnam. Previous trainings have been conducted in Hanoi (2012 and 2015), Ho Chi Minh City, Da Nang, Northwest Highlands, Central Highlands and the Mekong Delta region. Since 2012, over 550 Vietnamese government officials, faith leaders, policy advisors, and academics have participated in the training. This will be the first time this training has been held in the south-central region of the country.
To get real-time updates, photos, and livestreams from IGE's visit and programs in Vietnam and Laos, be sure to follow IGE on Twitter and Facebook.