IGE Holds Religious Freedom Training in Vietnam's Mekong Delta Region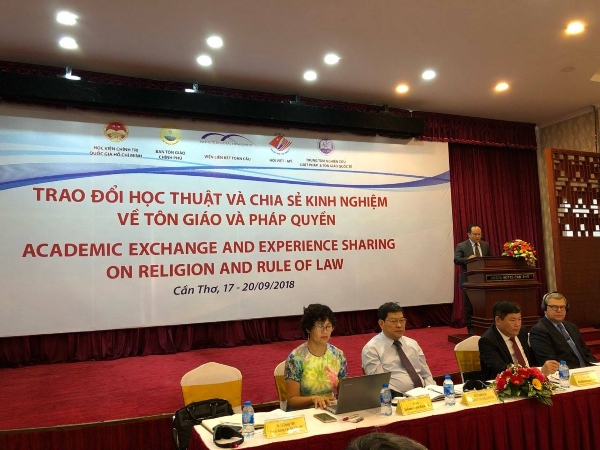 Mr. Le Quang Vinh, Vietnam-USA Society shares with those in attendance about their 13 year partnership with IGE to date promoting religious freedom and U.S.-Vietnam people-to-people relations.
This September, IGE conducted its flagship religious freedom training program in the Mekong Delta region, one of Vietnam's most religiously diverse regions. The Mekong Delta is home to various religious minority communities including the Hoa Hao, Cao Dai, and Muslims, all of whom have experienced persecution in the past. This was the first time that such a training has been held in the region. There were 130 participants consisting of government officials, faith leaders, and academics from 15 provinces in and surrounding the Mekong Delta.
The training covered international standards for religious freedom, constructive models of government-religion relations, and other key topics. The training featured legal scholars from Hungary, Indonesia, Singapore, and the U.S.
The training provided a safe space for faith leaders to share candidly about their relationship with the authorities. Discussions also addressed the legal status of religious groups, registration and taxation issues, and faith-based charity work. One participant shared, "I now understand how religious groups can provide solutions to new problems in the region."
The training was held in partnership with the Institute for Religion and Belief Studies at the Ho Chi Minh National Academy of Politics (NAP) and the International Center for Law & Religion Studies at Brigham Young University Law Center. The NAP is Vietnam's premier training institution for government officials.
This training was the seventh-such religious freedom training that IGE has held in Vietnam and builds upon IGE's 13 years of engagement in the country. The training seeks to build the capacity of emerging Vietnamese policymakers, faith leaders, and scholars to advance religious freedom and the rule of law. For more information about previous trainings, see below: