IGE Holds Religious Freedom Training in Vietnam's South-Central Region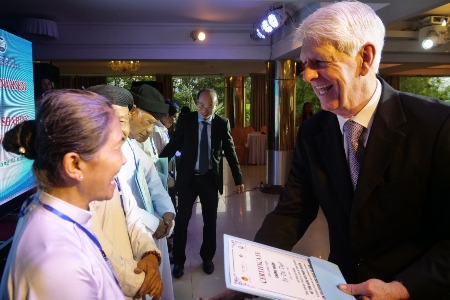 IGE President & CEO John Boyd issues certificates to participants at the conclusion of the Religion & Rule of Law training program.
From March 26-30, IGE held a "Religion & Rule of Law" certificate training program in Qui Nhon city, Binh Dinh province. This was the eighth such training held in Vietnam since 2012. There were 94 participants consisting of government officials, scholars, and faith leaders from 13 south-central provinces and the Central Highlands. The training featured presenters from Singapore, the U.S., and Vietnam who spoke on international standards on religious freedom, the UN Universal Declaration of Human Rights, and Vietnam's religious freedom protections in the Constitution, laws, and policies.
Prior to the meeting, IGE convened a meeting of alumni from previous trainings, most of whom were local-level government officials. During the training, candid discussions took place over the legal status of religious groups, registration and taxation issues, faith-based charitable activities, and case studies of resolving religion-related conflicts. The program also arranged for participants to visit religious sites including a Catholic church, Protestant church, Buddhist temple, and Cao Dai temple.
One participant shared, "This training has helped me gain a deeper knowledge of the meaning and importance of the freedom of religion and belief, and human rights."
The Religion & Rule of Law training was held in partnership with the Institute for Religion and Belief at the Ho Chi Minh National Academy of Politics (NAP) and the International Center for Law & Religion Studies at Brigham Young University Law School. The NAP is Vietnam's premier training institution for government officials.
Previous trainings have been conducted in Hanoi (2012 and 2015), Ho Chi Minh City, Da Nang, Northwest Highlands, Central Highlands and the Mekong Delta region. Since 2012, IGE has trained over 650 Vietnamese government officials, faith leaders, policy advisors, and academics.