IGE Facilitates Publication of First-Ever Vietnamese Textbook on Religious Freedom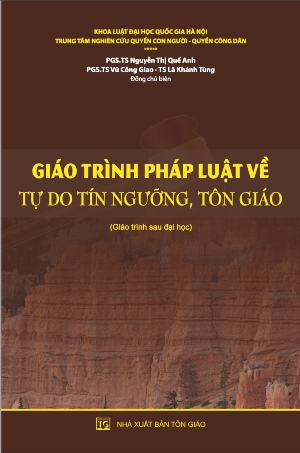 IGE partnered with the Vietnam-USA Society at the Vietnam Union of Friendship Organizations and the faculty of VNU Law School in the drafting, producing, and publishing of the first-ever textbook on religious freedom. Titled, "Law on the Right to Freedom of Religion and Belief," the textbook was published in May of 2020 and can now be used in classes at Vietnam National University (VNU) and other universities in the country.
The textbook consists of 14 chapters grouped into three key topics: 1) Introduction to Religion and Belief; 2) Freedom of Religion and Belief: Political and International Law Dimensions; and, 3) Freedom of Religion and Belief in Vietnam: Law and Practice. Each chapter concludes with a set of questions to help reinforce the concepts taught, facilitate group discussions, and provide guidance for further research.
Authors were drawn from prominent Vietnamese professors and researchers in the fields of religion and law, public policy, and constitutional law. The textbook analyzes Vietnam's laws and policies on religious freedom as well as international standards of religious freedom. Professor Vu Cong Giao, the head of VNU Law School's Department of Constitutional and Administrative Law and the leader of the textbook development project team stated, "In Vietnam, there have been many publications on religion and beliefs, but this is the first one focusing on freedom of religion and belief – a topic that many people are still hesitant to discuss. This hesitance demonstrates the need for this textbook. It fills a gap by providing teachers, students, and readers with a comprehensive and scientific analysis of the nature, content and framework of domestic and international laws on freedom of religion and belief. The textbook will be part of the curriculum of the Master's program in human rights law at VNU Law School. It will also serve as a reference resource for other higher education institutions, especially law schools in Vietnam. In addition, institutions, government agencies, and individuals whose work is related to the topic will be able to find useful knowledge and information in this textbook."
IGE has implemented religious freedom projects with local governments and grassroots organizations in Vietnam over the past 15 years. These projects include religious freedom trainings for government officials and faith leaders at the provincial and district levels. IGE's work in Vietnam also promotes people-to-people diplomacy between the United States and Vietnam, especially on religion and religious freedom issues. To learn more, contact IGE's Vietnam Program Manager Hien Vu (hvu@globalengage.org).