The Institute for Global Engagement is excited to announce the release of our new video on IGE's mission and work, "Vietnam: A Success Story."
The video highlights the amazing and unparalleled work of IGE and our partners in Vietnam over the past 15 years.
Since 2004, IGE has worked with both national leaders and the people of Vietnam to build religious freedom. Our unique and innovative programs are changing mindsets, equipping and building a network of reformers, and educating government officials and faith leaders on the legal protection of religious freedom for all. Thanks in part to IGE and our Vietnamese partners' perseverance, the nation has made significant progress in religious freedom over the past 15 years.
In 2017, the Billy Graham Evangelistic Association held an unprecedented gathering in Vietnam which drew tens of thousands of people. This event is indicative of the expansion and access for religious organizations and communities that IGE has worked to achieve in Vietnam. Recent other notable accomplishments:
IGE signed a new 5-year Memorandum of Understanding with our main government partner in Vietnam. This agreement affirms Vietnam's recognition of IGE's work in the country and looks ahead to the following: build the capacity of government officials and faith leaders as they implement Vietnam's new law on religion; enhance the positive role of women of faith in their communities; and, promote cooperation between academic institutions in the US and worldwide with those in Vietnam to perform joint research on religion, religion and the rule of law, and religious freedom.
IGE has now trained over 4,000 Vietnamese scholars, government officials, policy advisers, faith leaders and military personnel on good governance and religion, religious rights, international standards of religious freedom, religious freedom in Vietnam, reconcilation, and the implications of Vietnam's new law on religion and belief.
IGE's network of alumni have produced a growing body of Vietnamese language scholarship on religious freedom advocacy. They are also making religious freedom, rule of law and harmonious state and religion relations regular topics of study and practice at academic and government institutions across the country.
Sign me up to stay up to date on IGE's work in Vietnam!
"Religious freedom has been regarded as more sensitive even than military issues, but IGE's work over the past 15 years in this area is successful because of our mutual trust and respect."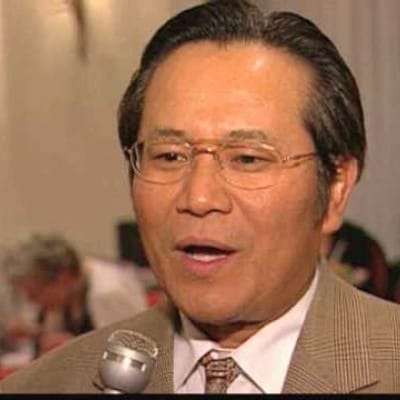 Nguyen Tam Chien
Former Vietnamese Ambassador to the U.S.
Religion and Rule of Law Training Program
September 2018: IGE hold its 7th certificate training program on "Religion and Rule of Law" in the Mekong Delta region, one of the major hotspots of religious freedom restrictions in the country.
IGE Marks Milestone in Vietnam Religious Freedom Programs
Program Manager Hien Vu shares exciting news from summer 2018 to include training program updates (one of the main avenues through which IGE equips and builds bridges of understanding between Vietnamese government officials and religious leaders at the national and local level), as well as the opening of the new Religion and Rule of Law center in Hanoi. The center, funded entirely by the Vietnamese government, signifies Hanoi's strong support and ownership of advancing religious freedom and the rule of law in the country. View a video clip from the launch here. Hien also shares about the honor bestowed upon IGE having received a special award from the Vietnamese government for building mutual understanding and reconciliation between the U.S. and Vietnam as well as between the Vietnamese government and its people. (The award ceremony was reported on by Vietnam's national television VTV4, starting at 5:37).
Locations IGE has engaged in Vietnam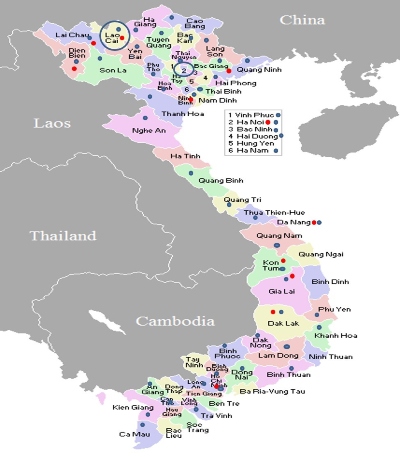 "Your bread and butter programs are making real impact on the ground, so please keep doing them!"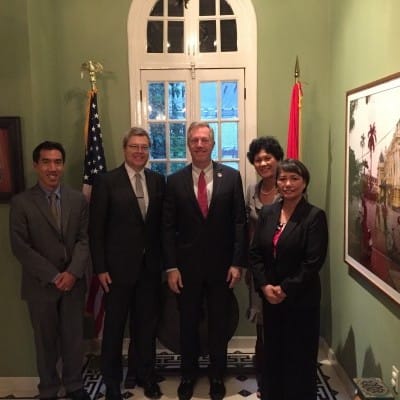 U.S. Embassy in Hanoi
During a meeting with the U.S. ambassador to Vietnam and his political officer, IGE asked how we could support the U.S. government's efforts at improving religious freedom in Vietnam; they responded with the above quote.