IGE and Vietnam National University Law School to Publish Textbook on Legal Protections of Religious Freedom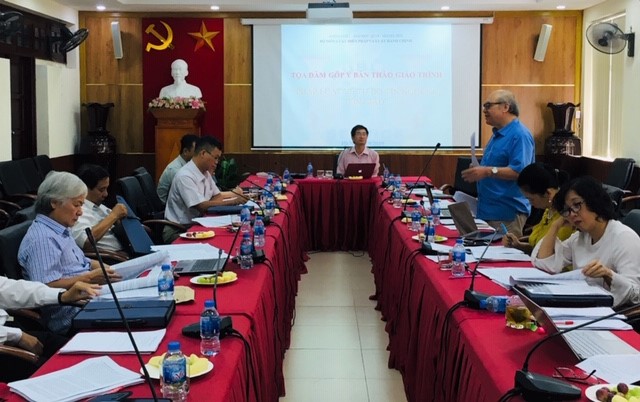 Pictured: Workshop participants present and give feedback to the draft chapters of the textbook.
On September 24, 2019, IGE and the Law School of Vietnam National University-Hanoi (VNU) conducted a workshop to review the initial draft of a textbook on "The Law on the Right to Freedom of Religion and Belief." The first-ever Vietnamese-language textbook of its kind in the country, it will serve as a key part of the curriculum for the new Master's degree program on human rights and religious freedom. This textbook addresses the great need for academic materials on human rights and religious freedom in Vietnam. It will be the first one written by Vietnamese scholars for Vietnamese students pursuing graduate-level studies in fields related to religion.
The workshop was convened by VNU Law School's head of the Department of Constitutional and Administrative Law, Dr. Vu Cong Giao. The textbook's contributing authors include Vietnam's foremost religion scholars from VNU's University of Social Sciences and Humanities and the Ho Chi Minh National Academy of Politics.
During the workshop, participants engaged in a lively and frank discussion on the history and on-the-ground situation of religious freedom in Vietnam. Topics covered included the past destruction of religious sites, current ongoing religious discrimination, and how to implement legal protection of religious freedom.