Center for Women, Faith & Leadership 2019 Fellowship Workshop held in Tashkent, Uzbekistan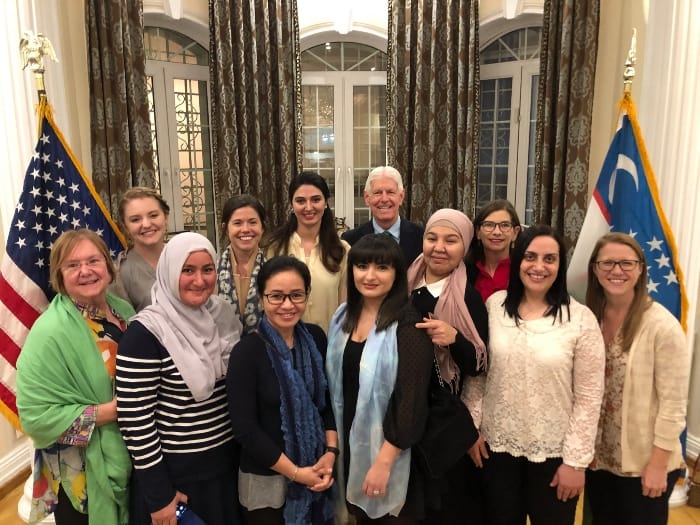 CWFL Fellows were welcomed to the U.S Ambassador to Uzbekistan's residence for a reception hosted in honor of the IGE delegation.
From October 27 - November 8, the Institute for Global Engagement's Center for Women, Faith & Leadership (CWFL) held a Fellowship workshop in Tashkent, Uzbekistan, as part of an IGE delegation to carry out initiatives outlined in the Memorandum of Understanding that IGE and the Uzbekistan government signed in 2018 to build religious freedom in the country. The workshop served as a culmination of the 2019 Fellowship, providing leadership development sessions for women-of-faith leaders working with vulnerable and marginalized communities. The workshop focused on identity formation as a pathway to leadership resiliency; leadership techniques and tools; and, sustainable leadership models. The fellows benefited from the integration of a multi-faith and multi-cultural approach, with a particular emphasis on learning about the unique approaches and challenges to women's leadership in Uzbekistan. CWFL was graciously hosted by two of its local Fellows, Durdona Khakimova and Nozima Ibragimova. In addition, CWFL received invaluable support from the Women's Committee of Uzbekistan.
Following the CWFL workshop, CWFL Fellows participated in the IGE's Religion & Rule of Law Certificate Training Program, co-hosted by the Institute of Strategic and Regional Studies under the President of the Republic of Uzbekistan (ISRS). During the program, the fellows provided practical examples of how caring for vulnerable religious and ethnic communities has a positive impact on the prosperity and stability of society. Presentations featured original research and initiatives that address key challenges of vulnerable communities in Pakistan, Cambodia, Iraq, Kenya, Uzbekistan, and the USA.
Molly Heacock, CWFL's USA/Kenya Fellow, shared, "My time in Uzbekistan with the Center for Women, Faith, & Leadership was incredibly inspiring and affirming. To be given a seat at the table during important discussions about religious freedom and marginalized populations was an honor. It was also amazing to learn from and alongside the other fellows in the program- these women inspire me to have persistence and passion in my work!"
Caren McCormack, CWFL's USA Fellow, said, "What a rich experience to more deeply connect with an amazing group of women, and together, to speak out about the value of lifting the vulnerable and marginalized. The Uzbek people and government could not have been more hospitable and welcoming to us. We were privileged to experience their traditions and an abundance of wonderful food."
At the end of 2019, CWFL will formally graduate 10 Fellows from the CWFL Fellowship program. The culimination of this third cohort grows the CWFL global network to 28 women-of-faith leaders across 17 countries. The fourth CWFL Fellowship Cohort will begin in March 2020, and is currently accepting applications online. All women-of-faith working with marginalized and vulnerable populations with fluency in English are encouraged to apply. If you are interested in joining the CWFL global network but are unable to participate in-person due to health, travel, financial, or other factors, IGE is also offering a distance learning fellowship for the first time in 2020. Learn more and apply by December 31, 2019.
IGE's Center for Women, Faith, & Leadership supports and equips women-of-faith to assume and advance in leadership roles and influence decision making in global affairs, with particular emphasis in areas where women are most affected yet have had the least influence—religious freedom, conflict resolution, and peacebuilding.