Vietnam National University Law School Holds Book Launch for Religious Freedom Textbook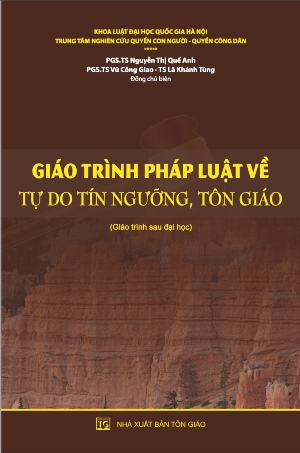 On May 24, 2020, Vietnam National University (VNU) Law School held a book launch for "Law on the Right to Freedom of Religion and Belief," the country's first-ever textbook on religious freedom and law. Jointly developed by IGE and VNU Law, the book was published earlier this May and targets graduate-level students. It has already been distributed to over 25 law schools and government offices throughout Vietnam.
In attendance at the book launch were professors and graduate students studying law, religion, and other fields. Professor Vu Cong Giao, head of VNU's Constitutional and Administrative Law department, announced that the textbook would be part of the curriculum for a master's program in human rights, the first of its kind in Vietnam. He also expressed his hope that the textbook would serve as a helpful reference for government officials and legislators working on the drafting and implementation of laws and policies affecting religious practice.
For more information about IGE's work in Vietnam, please contact Hien Vu (hvu@globalengage.org).