Join IGE's $30,000 Matching Gift Campaign!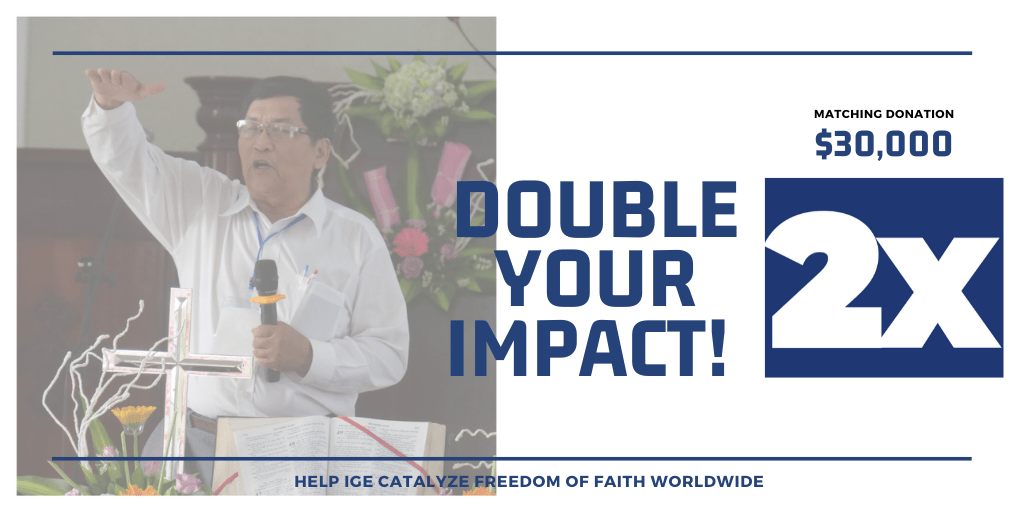 "I hope [IGE's] programs will continue in order to make the public more aware of the importance of religious freedom and fundamental rights of human beings." - Pastor Nguyen Van The, Christian & Missionary Alliance Church, Binh Dinh, Vietnam
*UPDATE: As of May 26, 2020, thanks to the generosity of donors like you, IGE exceeded our matching gift goal!*
IGE is excited to announce a $30,000 matching gift campaign made possible by a generous donor! We invite you to take advantage of this special opportunity to double your impact when you donate to IGE today.
IGE catalyzes freedom of faith worldwide so that everyone has the ability to live what they believe. Our approach is built upon three pillars: The Teachings of Jesus, Religious Freedom, and Relational Diplomacy. When you give to IGE you help:
Protect the freedom of assembly for churches and other religious institutions
Faith communities live out the gospel in their everyday lives
Equip women of faith leaders to advocate for the most marginalized among us
Positively change the mindset of government authorities towards faith communities
Equip persecuted believers to work together to fight for their freedom of faith
Influence the next generation of government leaders to advance freedom of faith
Publish valuable and timely analysis regarding the role of religion in global affairs
Check out our just released 2019 Annual Report where you can see tangible examples of our work and impact worldwide.
Will you join us, make a gift, and share with others why #ReligiousFreedomMatters to you? Thank you for standing in the gap and being a voice for the persecuted!