IGE's August 2019 Trip to Laos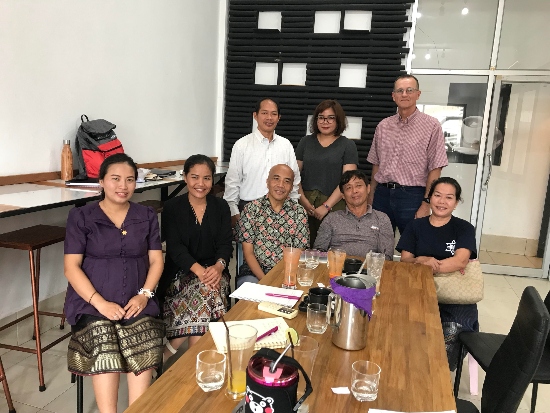 Dr. Bailey met with the Lao Peace Building Team
IGE's Laos Program Officer Dr. Steve Bailey spent time in the country this month where he met with Lao government officials and religious leaders to review IGE's work in the region. Dr. Bailey shared, "I feel encouraged by the collective efforts of our Lao government and religious leader counterparts to expand and protect religious freedom here."
During his trip, Dr. Bailey met with the Lao Peace Building Team that IGE has been training and supporting in their effort to share peace building skills throughout the country. The team is entirely a volunteer effort and it is inspiring to see their commitment to peacebuilding and religious freedom in their country! Members of the team consist of Catholic lay persons, Protestant Pastors, Baha'i community leaders, and Lao Buddhist monks.
Dr. Bailey also spent time with the leaders at the Lao Front (the organization responsible for promoting government policy and overseeing civil society) and the Ministry of Home Affairs (MOHA-Department of Religious Affairs). During the meetings with these government officials, discussions focused on IGE's efforts to help train government and religious leaders to promote and protect religious freedom. Of note, this is a complicated effort given the remoteness of many of the provinces in Laos and the lack of training among officials in the area of religion. Nevertheless, a lot of progress is being made! For example, The MOHA shared that they recently took a trip to Bolikhamxay where they mediated a religious dispute; positive results ensued. IGE hosted a Religious Freedom Seminar in this Province last fall, what an encouraging metric to see the effectiveness of our programming a year later! We hope to sponsor more of these efforts in the near future. If you are interested in learning more or helping to contribute to these efforts, please let us know!
In addition to meeting with current partners, Dr. Bailey also engaged new relationships. Steve met with a Mahayana Buddhist Vietnamese monk and a nun to invite them to participate in inter-faith discussions that IGE will sponsor in the coming months. They represent a small community of Mahayana Buddhists in Laos that practice Buddhism differently from the majority Lao Buddhist population. Dr. Bailey enjoyed learning about their history in Laos, touring the temple and hearing their concerns about religious freedom. We are pleased to report that they too were excited to learn of IGE's efforts to build religious freedom in their home country of Vietnam. IGE looks forward to collaborating with them in the future.