IGE Hosts Religious Freedom Seminars in Laos' Vientiane, Champassak, and Bolikhamxay Provinces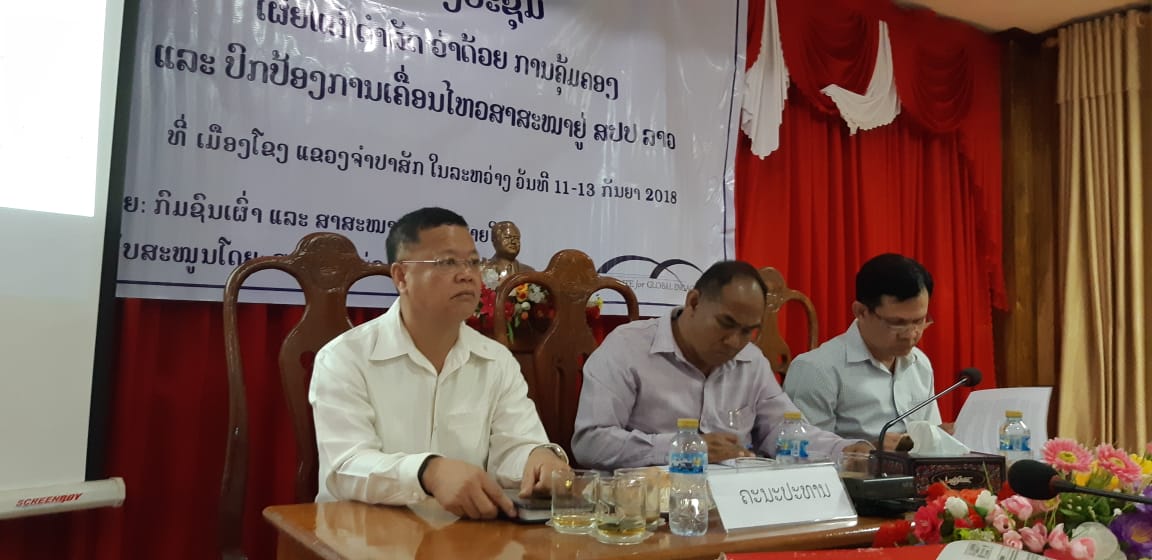 Director of MOHA Religious Affairs Mr Sosonephit on left in Champassak Province.
During September and October 2018, IGE and the Laos government's Ministry of Home Affairs' Department of Ethnic and Religious Minorities (MOHA) jointly held three religious freedom seminars throughout the country, training a total of 165 religious leaders and government officials. The trainings were held in Khong District, Champassak Province (11-13 September 2018); Pakkading District, Bolikhamxay Province (2-4 October 2018); and the Fueng District, Vientiane Province (16-18 October 2018). Representatives from the country's major religious communities participated including Christians (both Protestants and Catholics), Baha'i, and Buddhists.
The seminars served as a rare safe space for Lao government officials and religious leaders to build trust and mutual respect while learning about legal protections for religious freedom in Laos' constitution and policies. Religious leaders took advantage of the seminars to share their concerns about their ability to practice their faith freely with local officials that are directly responsible. Government officials also sought to better understand the needs of religious communities and how to better serve them.
These religious freedom seminars are part of a series of gatherings that IGE has held all around the country since 2012. IGE and MOHA plan to hold more seminars this year. In addition, IGE will hold a national-level meeting on Religion and the Rule of Law, the first-ever such meeting to take place in Laos.