Vietnamese Communist Party Chief Meets with U.S. Faith Leaders in Washington, D.C.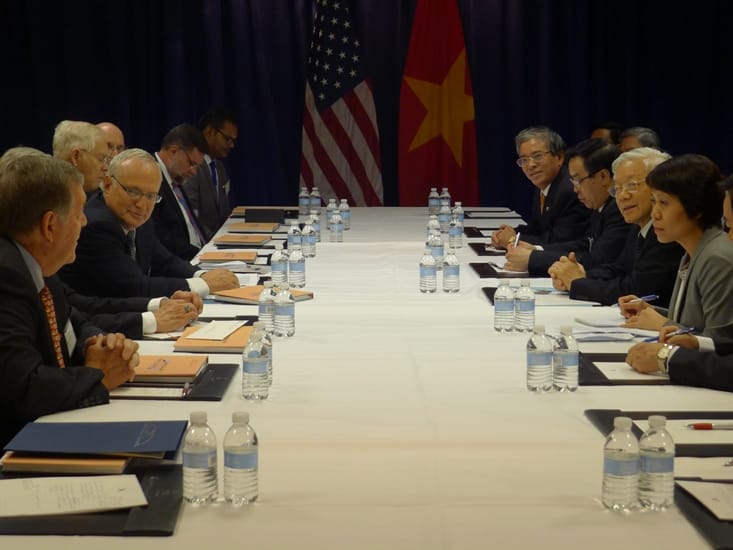 On 7 July 2015, at the request of the Vietnamese Embassy, the Institute for Global Engagement (IGE) convened a delegation of U.S. faith leaders to meet with the general secretary of Vietnam's Communist Party, Nguyen Phu Trong, in Washington, D.C. The U.S. faith leader delegation included the both the current Ambassador-at-Large (AAL) for International Religious Freedom David Saperstein, as well as the first AAL Robert Seiple, and representatives from Protestant, Catholic, Muslim, and Mormon faiths.
During the meeting, Ambassadors Saperstein and Seiple welcomed Secretary Trong's official visit to the United States on the occasion of the 20-year anniversary of normalized relations between the two countries. Ambassador Saperstein discussed his recent visit to Vietnam where he witnessed the vibrancy of Vietnamese faith communities. He also brought up his concerns about restrictions on registered and non-registered faith groups and the discrimination they face by local authorities. However, he believes that Vietnam and the U.S. could work together to improve religious freedom. Ambassador Seiple said that religious freedom work in Vietnam is a part of the great work of reconciliation for Vietnam and Vietnam-U.S. relations. He also recognized the improvement of religious freedom in Vietnam and expressed hopes for continued progress.
Secretary Trong discussed the religious diversity in Vietnam. He stated that Vietnam's constitution guarantees freedom of religion for everyone, but there is still more work to be done, especially on administrative procedures for religious registration. Secretary Trong expressed that feedback and collaboration from the U.S. government and faith leaders on the new draft law on religion was welcome. He also invited the delegates to visit Vietnam to improve their understanding of the religious situation in Vietnam.
One of the U.S. delegates, Pastor Bob Roberts of Northwood Church, said, "In the 20 years I've been going to Vietnam, I have seen significant changes as she has developed economically, globally, and socially. I have been very grateful for the way in which the government has worked hard to ensure religious freedom for all religions. I appreciate the collaboration of Vietnam and the Institute for Global Engagement."
At the end of the meeting, IGE's incoming CEO John Gallagher presented the General Secretary with written statements from the U.S. faith leaders who expressed their greetings and thoughts on the challenges and opportunities in working with Vietnam to expand religious freedom and strengthening bilateral relations between the U.S. and Vietnam.
The meeting was televised and reported on Vietnam's national VTV4 station. The English translation of an article published by VTV on the meeting can be accessed here.
IGE continues to work closely with policymakers and religious leaders in Vietnam as we seek to support the country's efforts to examine their own policies related to freedom of conscience and practice. In September 2015, IGE and its academic partners Brigham Young University and Vietnam National University's University of Social Sciences and Humanities will conduct the fourth Religion and Rule of Law (R&ROL) certificate program in Hanoi. The R&ROL training series serves the long-term goal of building solid scholarship and consensus around religious freedom for people of all faiths and none in Vietnam.
About the Institute for Global Engagement – The Institute for Global Engagement works at the critical intersection of religion and global affairs, building sustainable environments for religious freedom worldwide. Through local partnerships, IGE works transparently to convene, connect, and build consensus among government, religious leaders, and scholars to ensure that people of all faiths and none have full freedom of conscience and can participate as equal citizens in public life. To learn more about IGE's work in Vietnam, please contact Hien Vu at hvu@globalengage.org.