In Memory of IGE Co-Founder Margaret Ann Seiple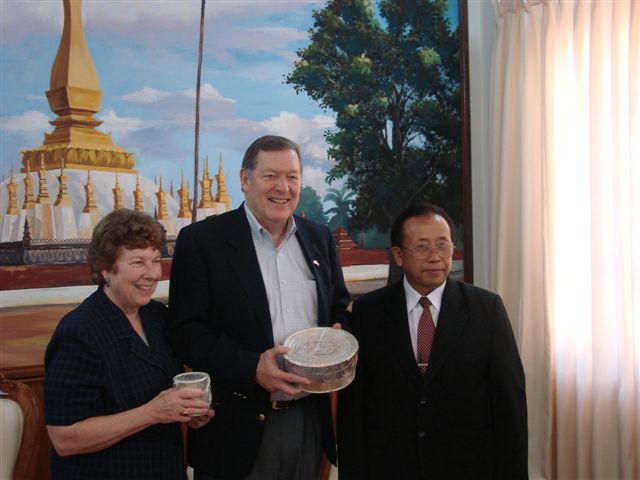 Tong Yeutho presents giff to Amb. & Mrs. Seiple, Vientiane, Laos (2007)
On April 2nd, 2020, IGE co-founder Margaret Ann Goebel Seiple passed away peacefully after battling a combination of Parkinson's disease and Lewy-Body dementia. She was 77 years old. While we mourn her departure from her earthly home and family, we take joy in knowing that she is with her Creator and Sustainer in her heavenly home.
Margaret Ann, M.A., as her friends knew her, was deeply loved and admired by all who knew her and lived a life of selfless service to the nation as well as across the globe. While her husband of 54 years, Robert (Bob) Seiple, was serving his nation during the Vietnam War, Margaret Ann took care of their home and children. She continued to support Bob through his tenures as president of Eastern University, president of World Vision, and as the U.S.' first Ambassador-at-large for International Religious Freedom. In 2000, as an outgrowth of what they learned together through these various roles and opportunities to serve, Margaret Ann and Bob co-founded the Institute for Global Engagement (IGE) to bring hope to vulnerable people of faith through innovative approaches at advancing religious freedom worldwide. Together, they have stewarded a lifetime of relationships through IGE. Margaret Ann had a special heart for Vietnam and Laos—two countries where IGE remains active today.
On behalf of the staff, board of directors, partners, and those whom we serve, IGE honors Margaret Ann's life and gives thanks to God for her legacy—both through the lives of her children, and through the organization she co-founded. She was a living example of what it means to be an "ambassador of reconciliation" (2 Corinthians 5:20), which is at the heart of IGE's mission to catalyze freedom of faith worldwide so that everyone has the ability to live what they believe.
A formal obituary can be read here.