IGE's Center for Women, Faith & Leadership Welcomes 20 Women of Faith to its inaugural Distance Learning Fellowship program!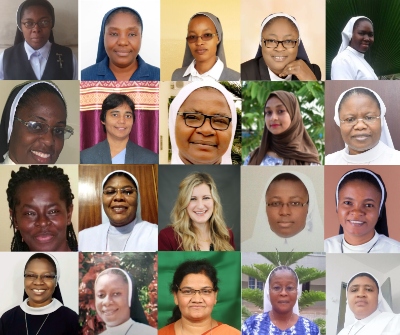 On 31 January 2020, the Institute for Global Engagement's Center for Women, Faith & Leadership (CWFL) launched its first Distance Learning Fellowship Program. The Distance Learning Fellowship is a one-year online fellowship program for women of faith seeking to advance their leadership through skill building, as they advocate for the vulnerable and marginalized. The online fellowship is a means for CWFL to expand the reach of its successful hybrid fellowship, to women of faith who are unable to participate in-person, due to health constraints, visa restrictions, transportation constraints, economic hardship, etc. The Distance Learning Fellowship represents the next phase in CWFL's long-term strategic plan: making CWFL resources more accessible and sustainable for a global community of women-of-faith leaders and advocates.
​The 2020 Distance Learning Fellowship consists of 20 women of faith from around the world to include: Nigeria, South Africa, USA, Ireland, India, and Kenya. The Fellows represent women of Christian and Muslim faiths, and come from professional sectors spanning that of Clergy, Education, Media, Mental Health, Medicine, Development, and Social Services.
The 2020 Distance Learning Fellowship cohort will meet for 12 synchronous and asynchronous online learning webinars, led by CWFL's dedicated network of teachers and consultants. Sessions specifically featured in the Distance Learning Fellowship include:
​Orientation
Planning for Leadership
Overcoming Challenges to Leadership
Ensuring Sustainable Leadership through Self-care
Advancing Your Credibility by Telling Your Story
​Gaining Confidence in Public Speaking & Dialogue
Negotiating Conflict
Building Effective Mentorships & Networks
Setting Yourself Up For Success through Prayerful Strategic Planning
Advocating For Yourself & Cause through Marketing Principles
Building Philanthropic Partnerships
Program Graduation & Debrief
It is our hope that through these sessions and online dialogue, the Distance Learning Fellows gain not only tangible skills for their leadership development, but also a valuable platform and safe space from which to gain greater connection and self-care.
CWFL is launching its 4th Hybrid Fellowship cohort this month, with 10 women-of-faith from around the world. This brings the direct impact of IGE's Center for Women, Faith & Leadership – through its innovative Fellowship program – to 56 women of faith from 25 countries!