IGE Partners in Myanmar During Period of Historic Transition to Civilian Rule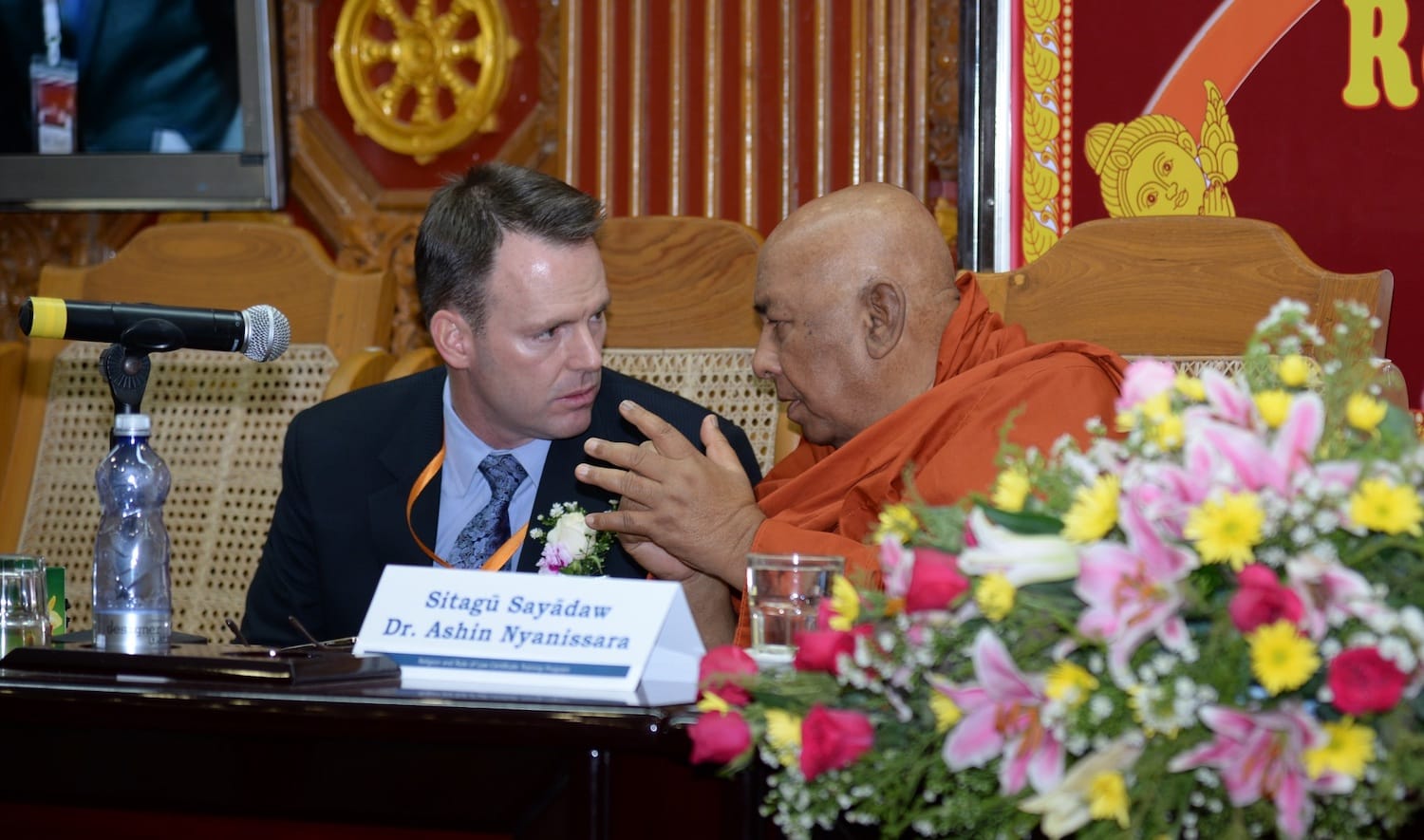 (Prominent Myanmar Buddhist leader, Sitagu Sayadaw Dr. Ashin Nyanissara, and IGE President & CEO John Gallagher at the opening ceremony of the Religion & Rule of Law Certificate Training Program in Yangon, Myanmar.)
This training follows the historic elections in November, signaling an end to more than five decades of military rule and the start of transition to civilian governance (under the National League for Democracy). IGE conducted key meetings with Myanmar's religious and political leaders, as well as with the U.S. Embassy in Yangon, to offer local, regional, and global perspectives on sustainable governance and civil society. The 10-day certificate program was conducted with support from Myanmar's Minister of Religious Affairs as well as prominent religious leaders such as the SIBA Chancellor Sitagu Sayadaw (Dr. Ashin Nyanissara) and Cardinal Charles Bo of the Catholic Bishops' Conference of Myanmar, both of whom delivered keynote addresses. IGE's CEO, John Gallagher, also delivered remarks to open the conference.
There is cautious optimism throughout the country over the historic period of political transition ahead. Expectations for positive change are high, while long-standing political tensions simmer below the surface. IGE's high-level meetings with political and religious leaders built upon previous meetings and further established a foundation of trust and partnership for the future. These leaders have asked IGE to continue working alongside them during this defining time – to help enable reconciliation, good governance, and education on complex issues like religious freedom, citizenship, even security and stability.
The Religion & Rule of Law program, with input from both international and Myanmar experts and scholars, was carefully designed to promote greater understanding of the building blocks of self-governance and civic-peace (in Myanmar's own context) as well as equip participants with critical knowledge of global comparative approaches to religion and law. Lectures were delivered by noted professors and scholars from Australia, China, Indonesia, Myanmar, Singapore, Thailand, USA, and Vietnam.
Participants included senior level government officials from the Ministry of Religious Affairs, religious leaders, and practitioners and scholars from different faiths including Buddhists, Muslims, Protestants, Catholics, and Hindus mostly from the Yangon region. The program also included international observers from Indonesia and Vietnam. A Religion & Rule of Law Public Forum was also held in conjunction with the certificate program at the Myanmar Baptist Convention. Local and global experts and religious leaders from Buddhist, Christian, Muslim, and Hindu faiths gave presentations on past, present, and future challenges facing their communities. Additionally, a panel on Religion and Rule of Law in ASEAN countries addressed majority and minority issues across the region. Over 120 people attended the forum.
IGE's CEO, John Gallagher and VP for Programs, James Chen led IGE's U.S. delegation. However, this unprecedented gathering was the result of a vision and dialogue begun in 2013, initiated in part by IGE's Dr. Chris Seiple, on Peace, Security, and Co-existence in Myanmar that included people of different faiths, ethnic backgrounds, nationalities, gender, and even spanned civilian and military lines.
Building on this foundation, participants in the 2015 program stated that they benefited greatly from the education and engagement on such key issues, which most agreed have never been addressed before so directly, and in a forum so conducive to constructive dialogue. Participants also greatly valued the opportunity to build relationships with other political and religious peacebuilders over the course of 10 days.
The opening and closing ceremonies of the event were broadcast on national television in Myanmar. Channel News Asia and the Myanmar Times also published articles about the training. Finally, IGE's special issue of The Review of Faith & International Affairs on "Religion, Law, and Society in Myanmar " (Winter 2015) was translated into Burmese, and 100 copies were distributed to conference participants and key leaders.