IGE Convenes Unprecedented Conference on Religion and Rule of Law in Laos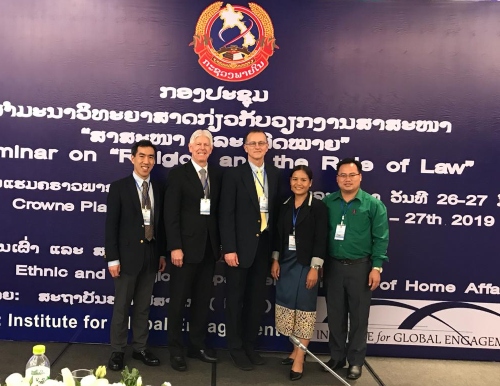 The IGE Team (from left to right): VP of Global Operations James Chen, President & CEO John Boyd, Laos Program Officer Stephen Bailey, Consultant Manichanh Keohavong, Consultant Lee Hua Thao
From March 27-28, IGE and the Ministry of Home Affairs (MOHA) of the Lao People's Democratic Republic co-convened the first-ever national conference on "Religion and the Rule of Law" in Vientiane. Over 100 Lao government delegates from every province in Laos as well as representatives from the Buddhist, Muslim, Baha'i, and Christian faiths. Amongst Christians, leaders from the Catholic Church, Lao Evangelical Church and Seventh-Day Adventists participated in the conference.
The conference featured remarks from senior officials from the Lao Ministry of Foreign Affairs, Ministry of Justice, and Ministry of Home Affairs. Experts and scholars from the U.S., Vietnam, and Singapore also presented on United Nations Universal Declaration of Human Rights, Religion and the Rule of Law, Religious Freedom and U.S. Foreign Policy, Policy and Law on Religious Minority Groups in Vietnam, and the Singapore Model of Religious Freedom and Governance.
The conference was covered by Lao Public Security Television and local newspapers. IGE will continue to work with MOHA to convene local-level Lao government and religious leaders to address human rights and religious freedom.