IGE Conducts Inaugural Religion and Rule of Law Training Program in Jakarta, Indonesia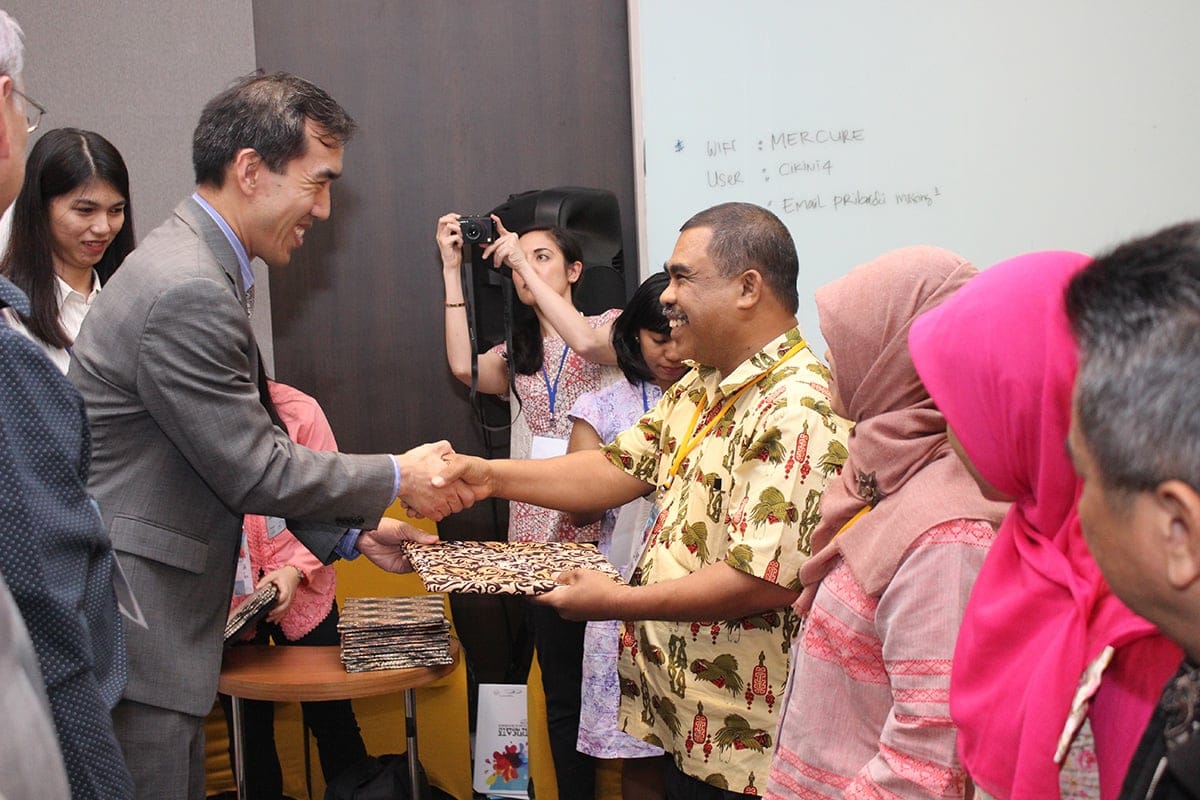 From 13 to 18 March 2017 the Institute for Global Engagement (IGE), in partnership with the Jakarta-based Leimena Institute and Brigham Young University's International Center for Law and Religion Studies (BYU), conducted its inaugural "Religion and Rule of Law" (RROL) certificate program in Jakarta, Indonesia. Sixty Indonesian religious leaders and scholars, half Muslim and half Christian, participated in a six-day training program facilitated by leading experts from Indonesia, Singapore, Myanmar, Norway, and the United States. Observers from the Philippines, Myanmar, and Malaysia also took part in the program. The topics addressed included religious freedom, rule of law, human rights, peace building, gender and religion, constitutional issues, and citizenship.
The discussions throughout the training struck home given the intensifying debate in Indonesia over the role of religion in the recent Jakarta governorship elections as well as a rising threat of violent extremism. The certificate program was also featured on national television on Indonesia's Berita Satu Channel: "Leimena Institute Holds Discussion on Phenomenon of Hate Speech and Radicalism" (in Indonesian).
An academic conference on "Religion and the Rule of Law – Yesterday, Today, Tomorrow" was held in conjunction with the training program on 16 March. The conference featured presentations from the winners of the 2015-2016 an international essay contest on "Religious Freedom in Southeast Asia and the West" organized by IGE and Leimena Institute. The first place winner in the professional category, Jennifer Pelupessy-Wowor of Duta Wacana Christian University in Indonesia presented her paper on "The Role of Religious Education in Promoting Religious Freedom." Veronica Louise B. Jereza of the University of the Philippines College of Law, the first place winner in the student category, presented her paper on "Many Identities, Many Communities: Religious Freedom amidst Religious Diversity in Southeast Asia." The conference also included panel discussions on "Facing the Challenges of Radicalization," "Interfaith‐Dialogue with Religious Leaders as a Mechanism for Peace Building," and "Responsible Citizenship in a Religious Society."
IGE and BYU also had the opportunity to meet with Lakpesdam NU and the Maarif Institute, two of the largest Muslim organizations in Indonesia. Both groups shard their concern about the rise in radicalization and their efforts to counter it by engaging Indonesian youth and society. Leaders from both organizations also spoke at the Religion and Rule of Law academic conference. IGE and BYU also met with the Communion of Churches in Indonesia (PGI) to learn about their efforts to cultivate interfaith harmony and promote leadership development in the churches throughout the country.
This inaugural program in Indonesia was the third in a series of RROL certificate programs that IGE convened in Southeast Asia during the first quarter of 2017. For more information about IGE's "Religion and Rule of Law" programs, please see our recent press releases about our programs in Myanmar and Vietnam. This program was made possible through the generous support of the John Templeton Foundation.