Center for Women, Faith & Leadership Graduates Inaugural Distance Learning Fellowship Cohort
On December 15th, 2020, IGE's Center for Women, Faith & Leadership (CWFL) marked the graduation of its first-ever Distance Learning Fellowship Cohort. The one-year fellowship program builds the capacity and leadership of global women of faith working in the fields of religious freedom, conflict resolution, and peacebuilding. Fellows learn both from each other and experts, focusing on leadership, cross-cultural communication, and negotiation skills while leveraging their expertise and networks to engage and influence key audiences and stakeholders. The Distance Learning Fellowship has expanded the global reach of CWFL's successful flagship fellowship program to participants in countries that would otherwise encounter barriers in traveling to the United States.
During the graduation, the Fellows shared about how they have utilized the resources, trainings, and networking they acquired through the program. Sister Theresa Eke, a member of the Daughters of Charity of St. Vincent de Paul in Nigeria, shared how the program equipped her to engage in multi-faith dialogue as well as implement sustainable self-care measures for her and her staff. Sister Nancy Ong'era, a medical missionary in Nigeria, said that the fellowship strengthened her leadership through skills she learned in public speaking, cause marketing, and mentorship. Finally, Ms. Fatima shared how the prayers and support she received from the cohort sustained her through challenges she faced during the pandemic. Many other Fellows went on to affirm how the program helped them to flourish as women of faith leaders.
IGE is grateful for the participation and investment of the 2020 Distance Learning Fellows and looks forward to supporting them in their ongoing leadership journey. As we enter into a new year, CWFL is now accepting applications for its 2021 Distance Learning Fellowship Program. Applications can be accessed here and are due on February 15, 2021. For more information, please contact CWFL Program Director, Kristen Lundquist at klundquist@globalengage.org.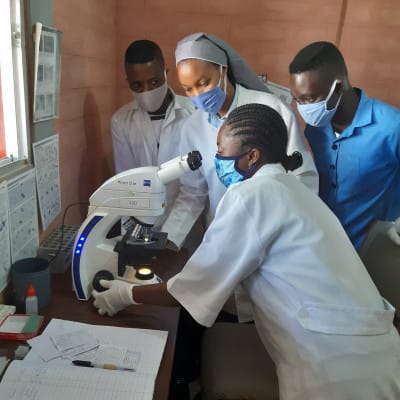 Sister Nancy is a member of the 2020-21 inaugural IGE CWFL Distance Learning Fellowship Cohort. Sr. Nancy manages a clinical laboratory and runs a health clinic for rural members of the community, especially young women facing early marriage and pregnancy. She is featured teaching her clinical staff.