IGE in Myanmar - December 2015
30 November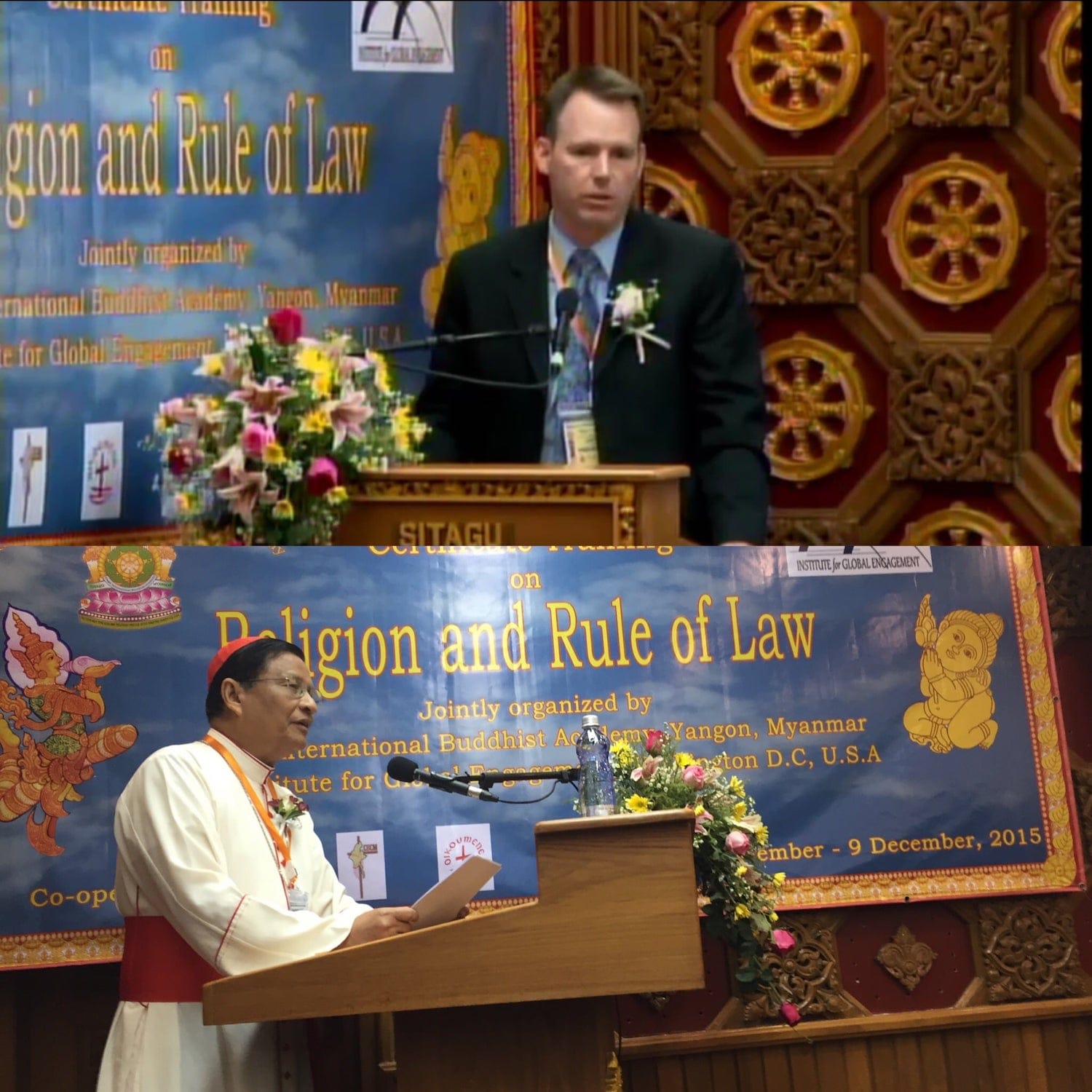 Cardinal Charles Bo and IGE President & CEO John Gallagher represent just two of our distinguished presenters who gave opening remarks at our Religion & Rule of Law Program. In his opening speech Cardinal Bo said, "after six decades of groping in the darkness, there is a dawn of hope. Myanmar's people are looking to their religious leaders to accompany them on a pilgrimage towards regaining their human dignity."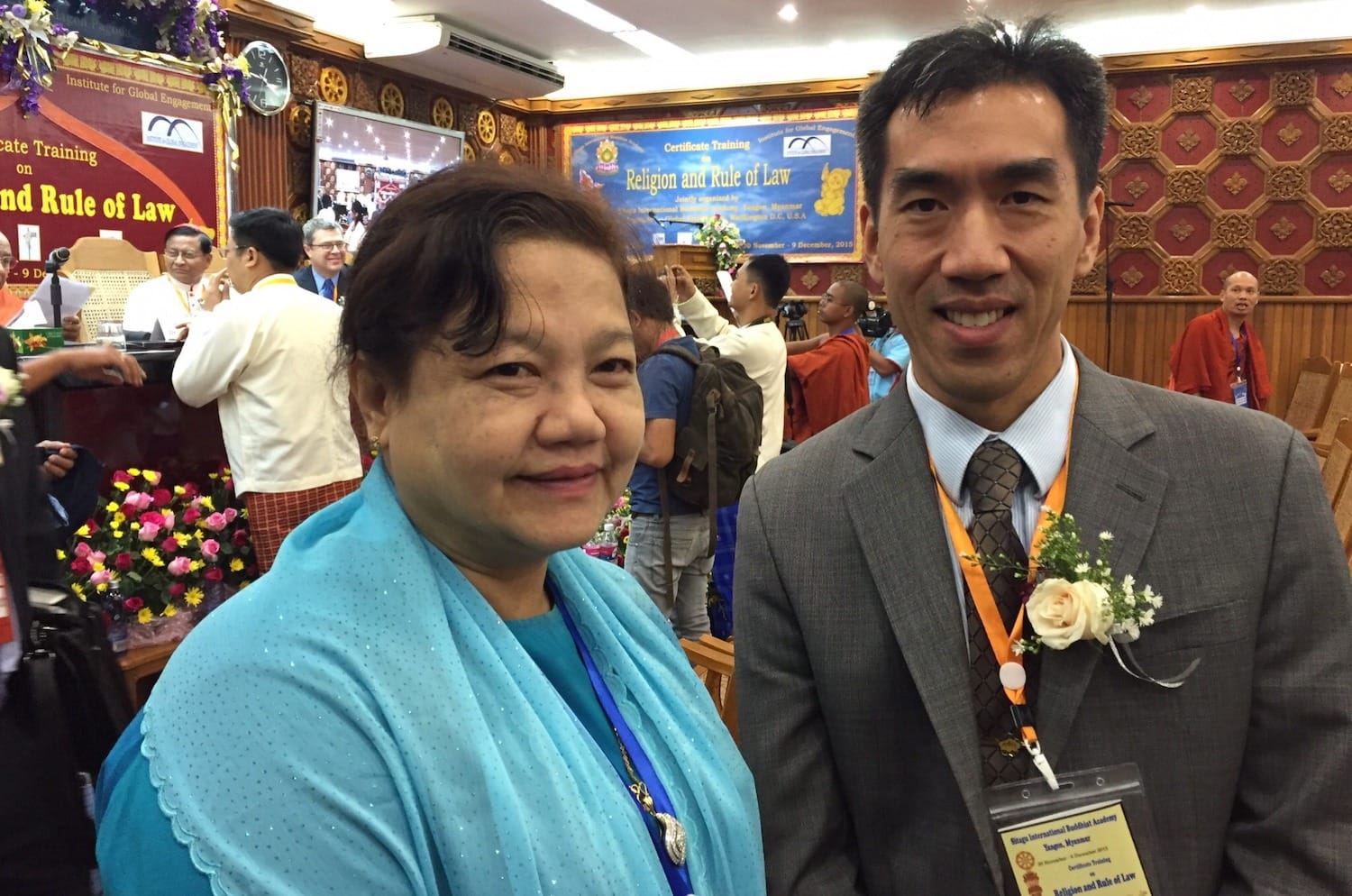 A pleasure to have Cho Cho Aung, one of IGE's Center for Women, Faith, & Leadership (CWFL) Fellows participate in our Religion & Rule of Law Certificate Training Program.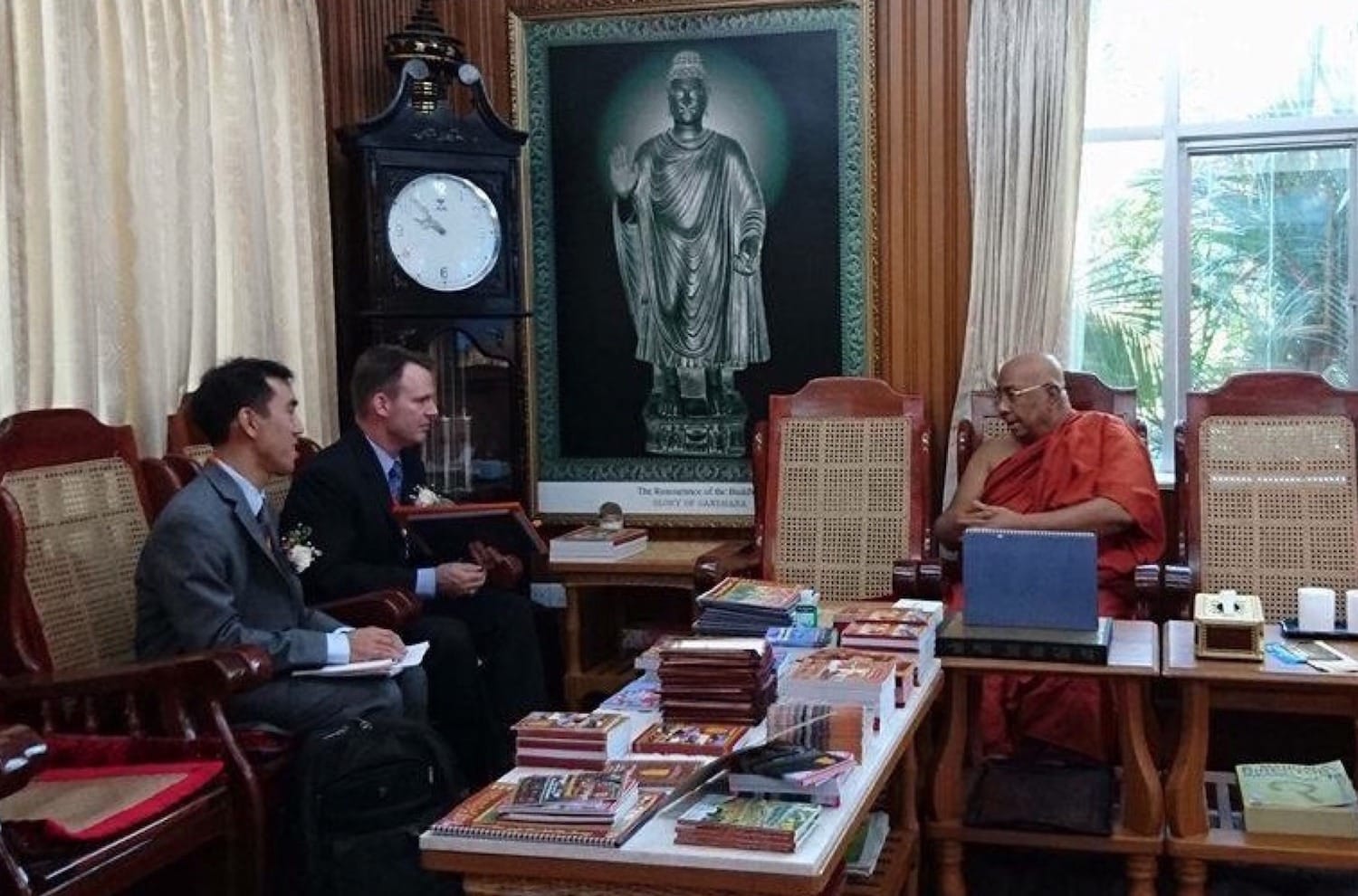 IGE President & CEO John Gallagher and VP for Programs James Chen meet with our Buddhist partner, the Venerable Sitagu Sayadaw, to discuss his views on challenges and opportunities facing Myanmar and the state of interfaith relations.
1 December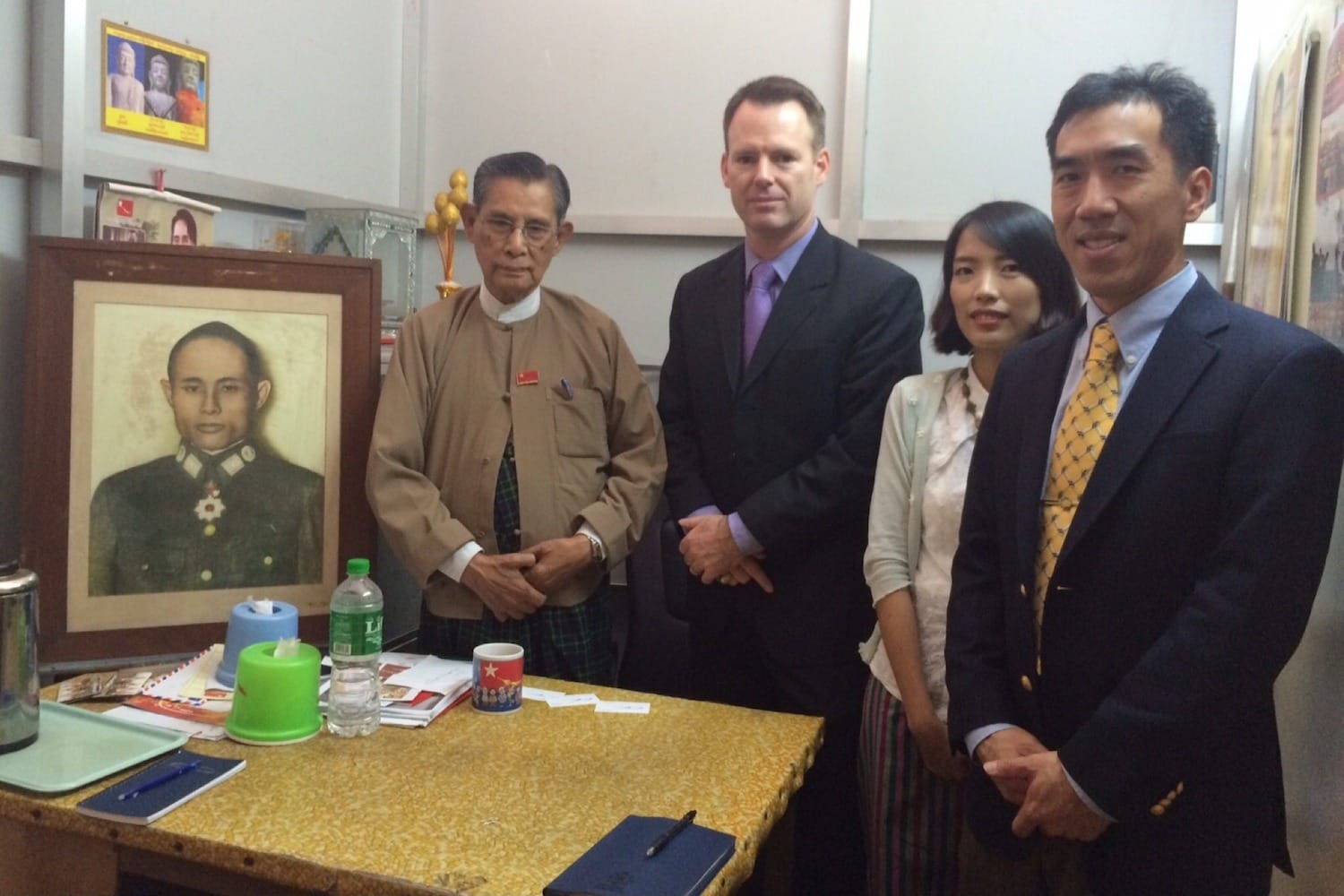 Team IGE met with U Tin Oo, the chairman emeritus of the National League for Democracy (NLD) in Yangon, Myanmar to hear his views on what's in store for the country's first peaceful political transition.
2 December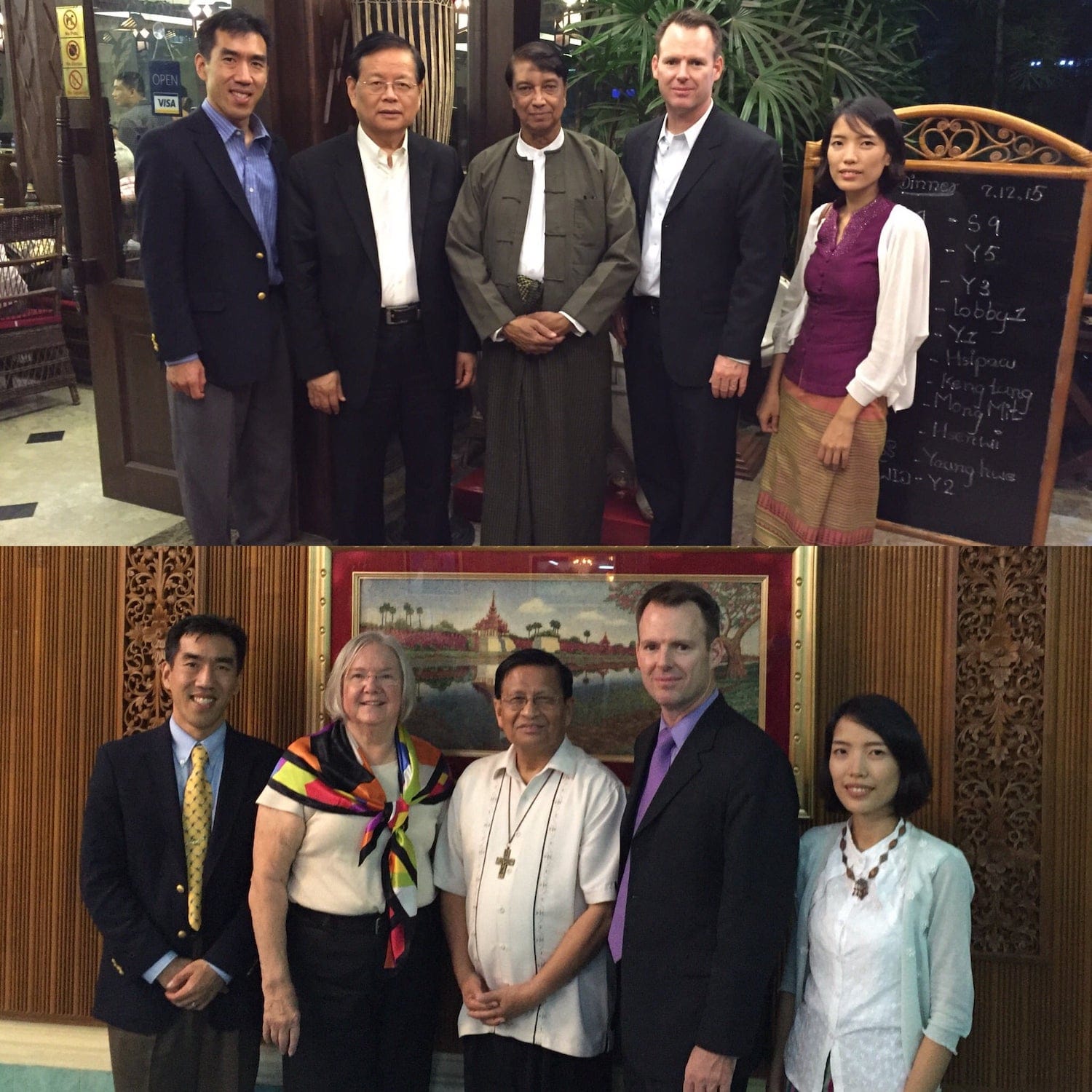 Team IGE is grateful -- and blessed to have had the opportunity to -- meet with our friend, Cardinal Charles Bo. We are deeply inspired by his faith and courage for speaking truth to power and standing up for the persecuted and marginalized in his country. Team IGE was also blessed to spend time with both Religion & Rule of Law trainer Liu Peng and Al Haj U Aye Lwin, chief convener of the Islamic Center of Myanmar and the country's leading Muslim voice for interfaith peace and reconciliation.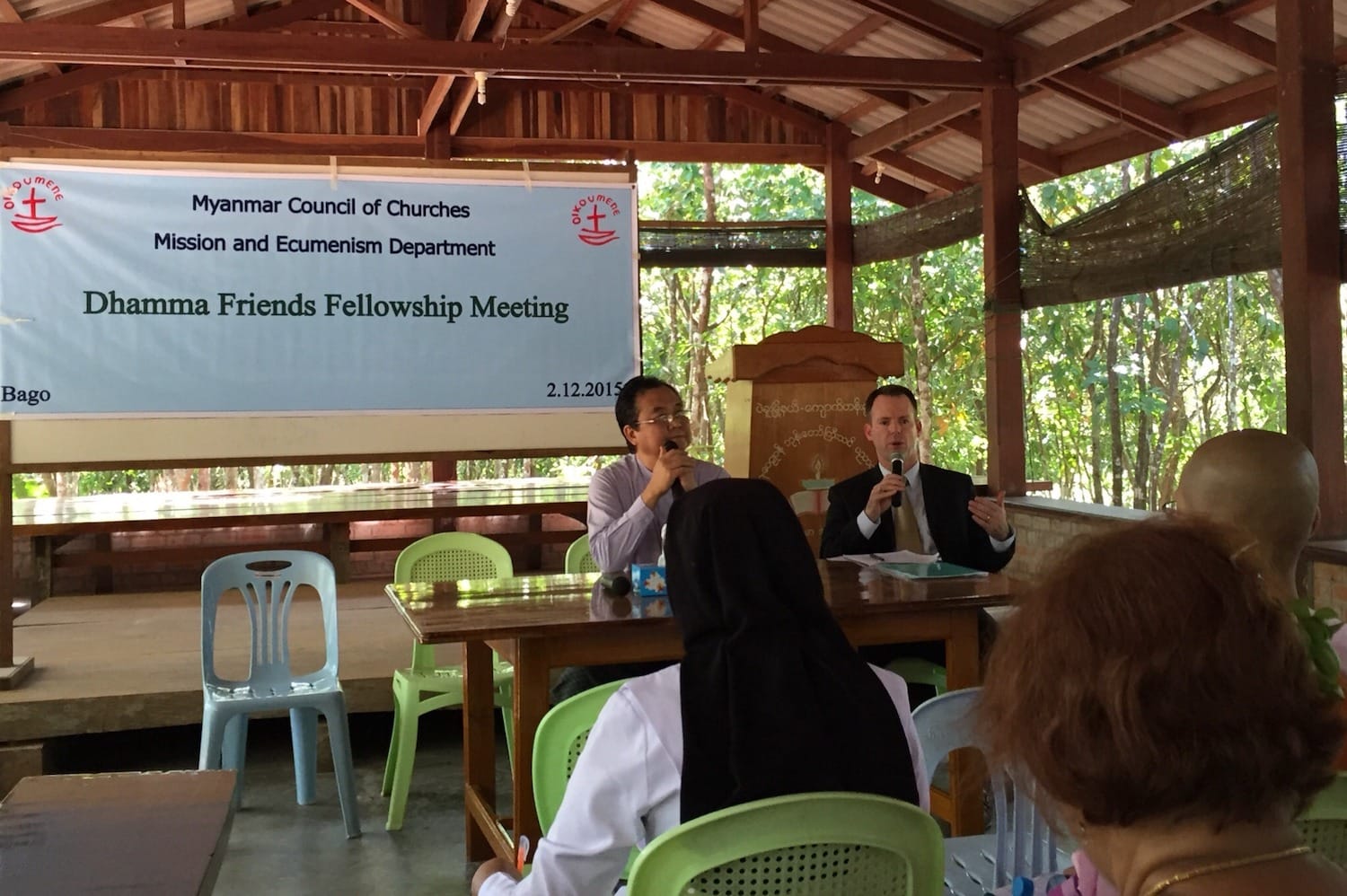 IGE President and CEO John Gallagher was invited to speak to the Interfaith Dialogue Group, a wonderful group of Buddhist, Protestant, Catholic, Muslim, and Hindu leaders who work to promote peace and resolve conflicts at the local level in Myanmar.
3 December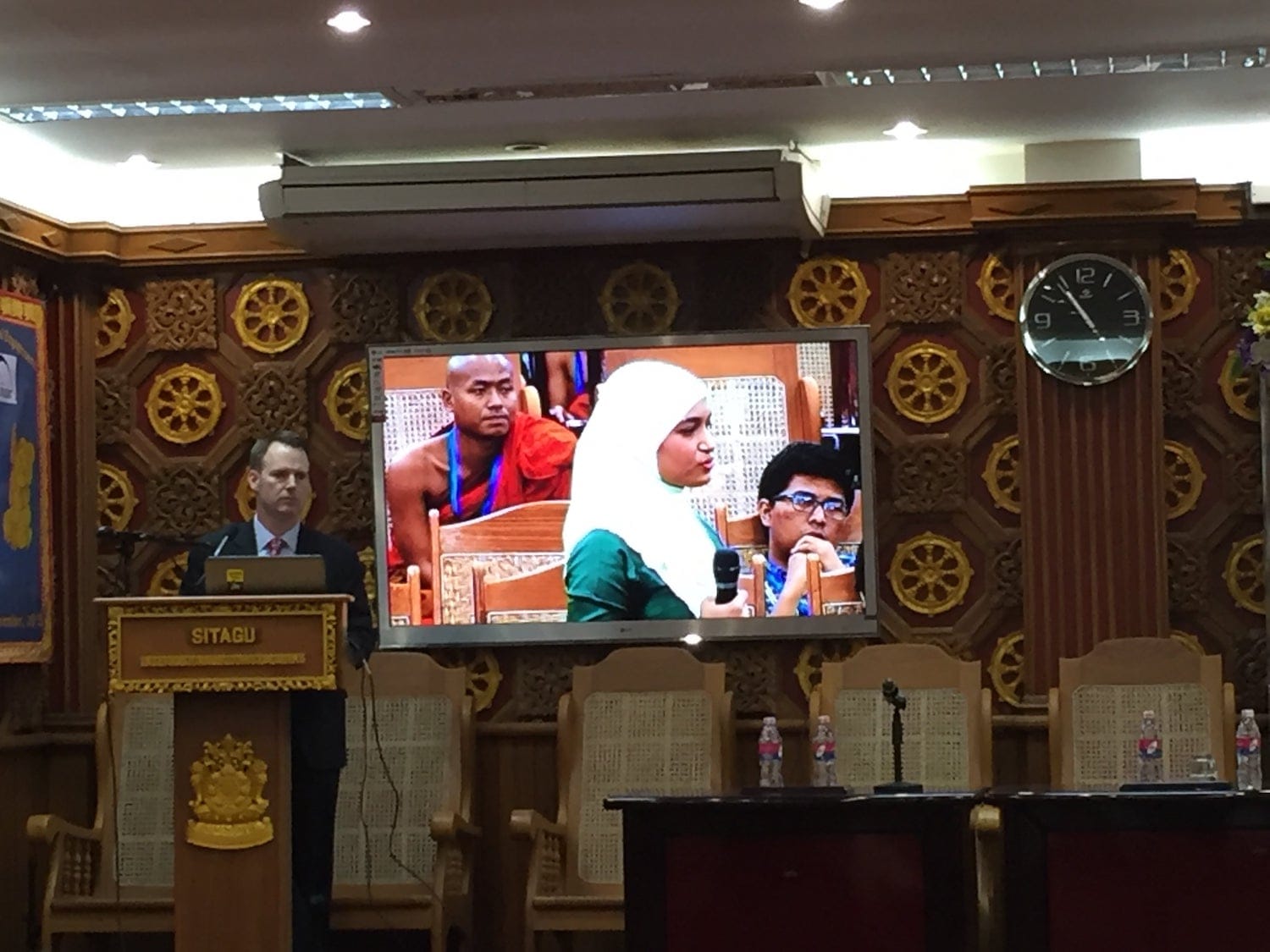 IGE President & CEO John Gallagher speaks on "Religion, Rule of Law, and Security" at our "Religion & Rule of Law Certificate Training Program." Among the participants are leaders from each of the country's major religious communities: Buddhists, Muslims, Christians, and Hindus, all learning together and working together for a brighter future for their country in this critical moment of transition.
4 December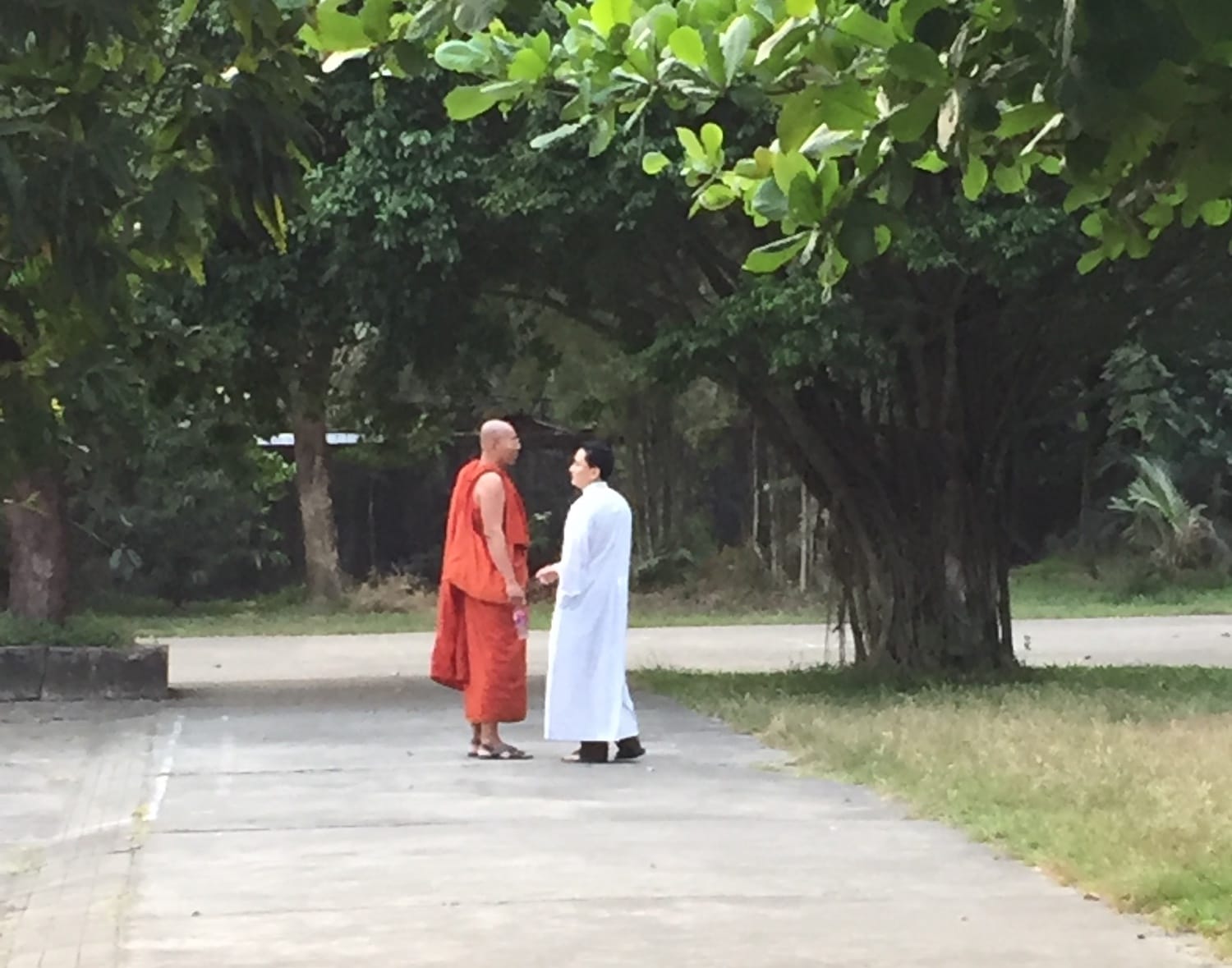 Participants in our Religion & Rule of Law Training program take advantage of the unique opportunity to engage and learn with/from persons from various different faith backgrounds.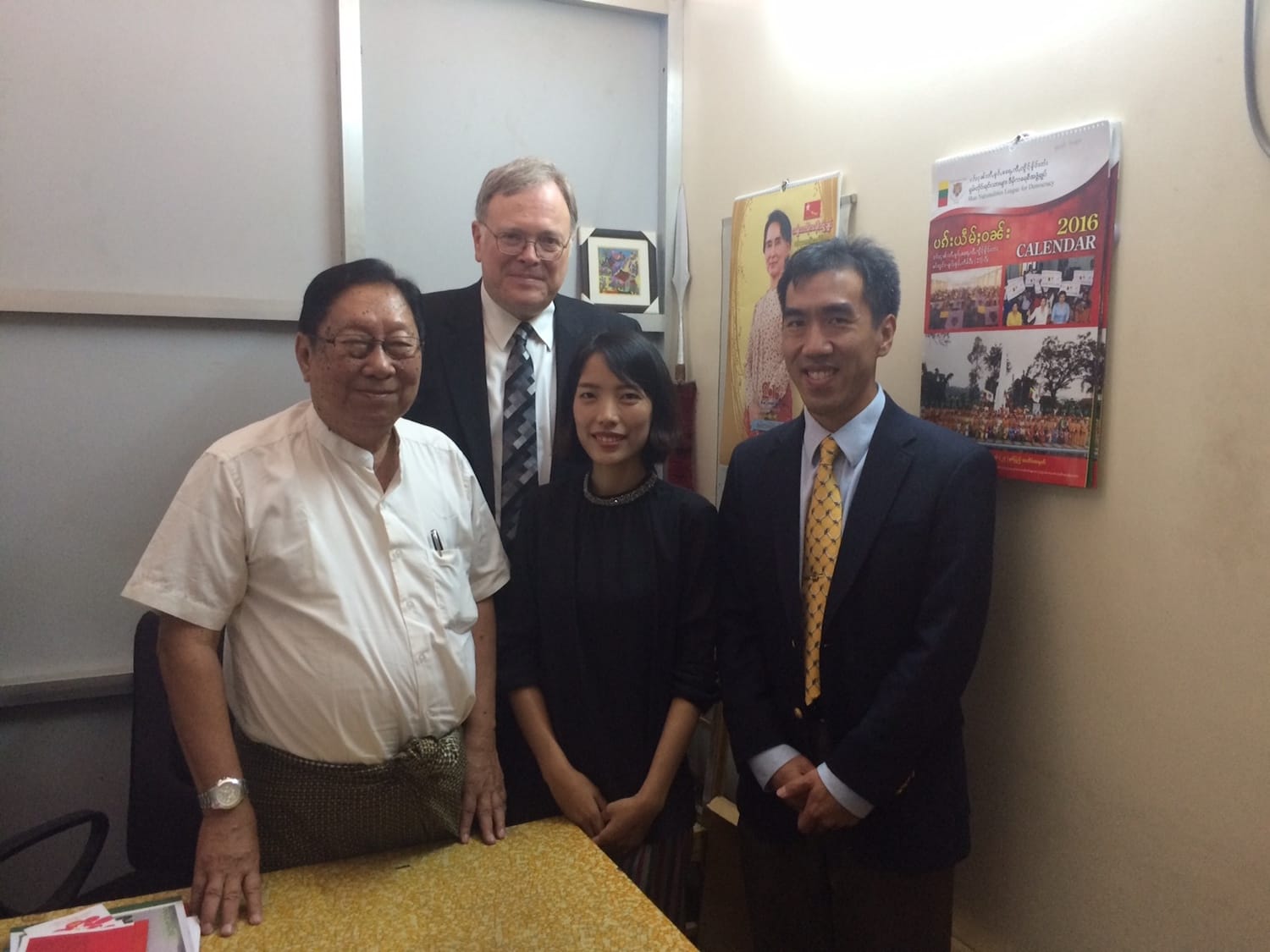 IGE and RROL partner, BYU professor Cole Durham meet with U Nyan Win, NLD legal advisor and spokesman, to discuss his views on Myanmar's future.
December 5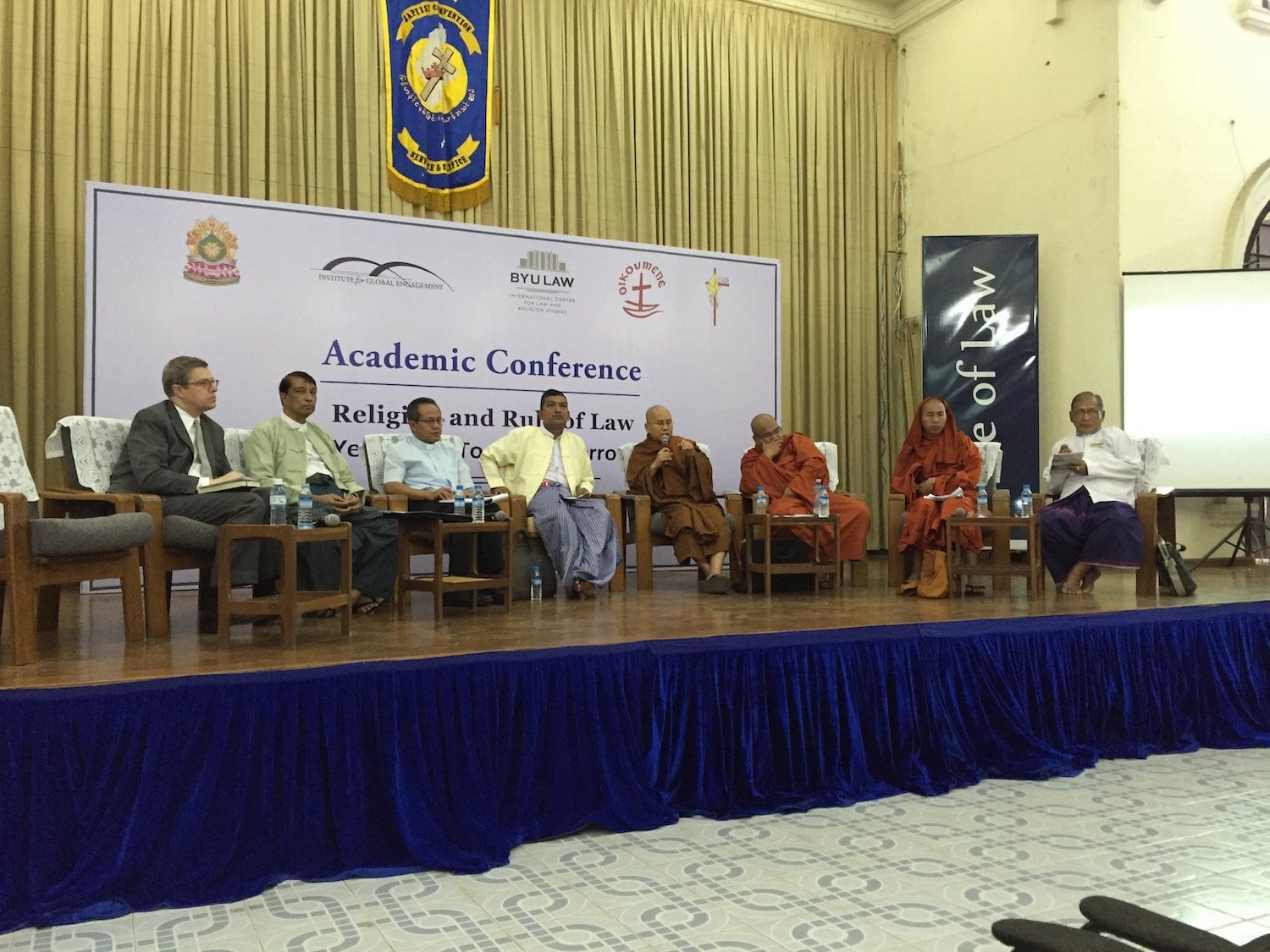 At our "Religion & Rule of Law Academic Conference," leaders from Myanmar's Muslim, Catholic, Hindu, Buddhist, and Protestant communities have an honest discussion on the challenges their communities face.
December 6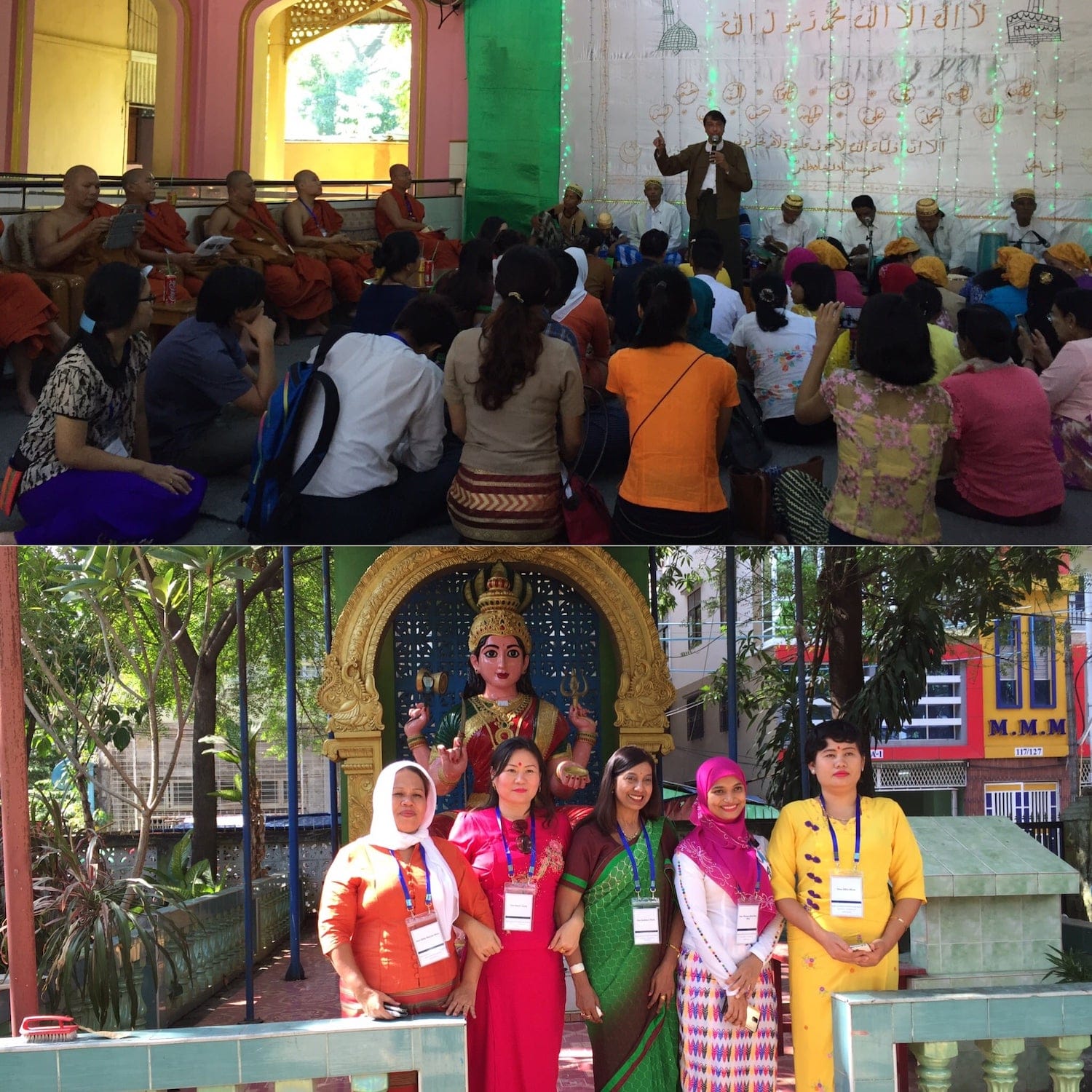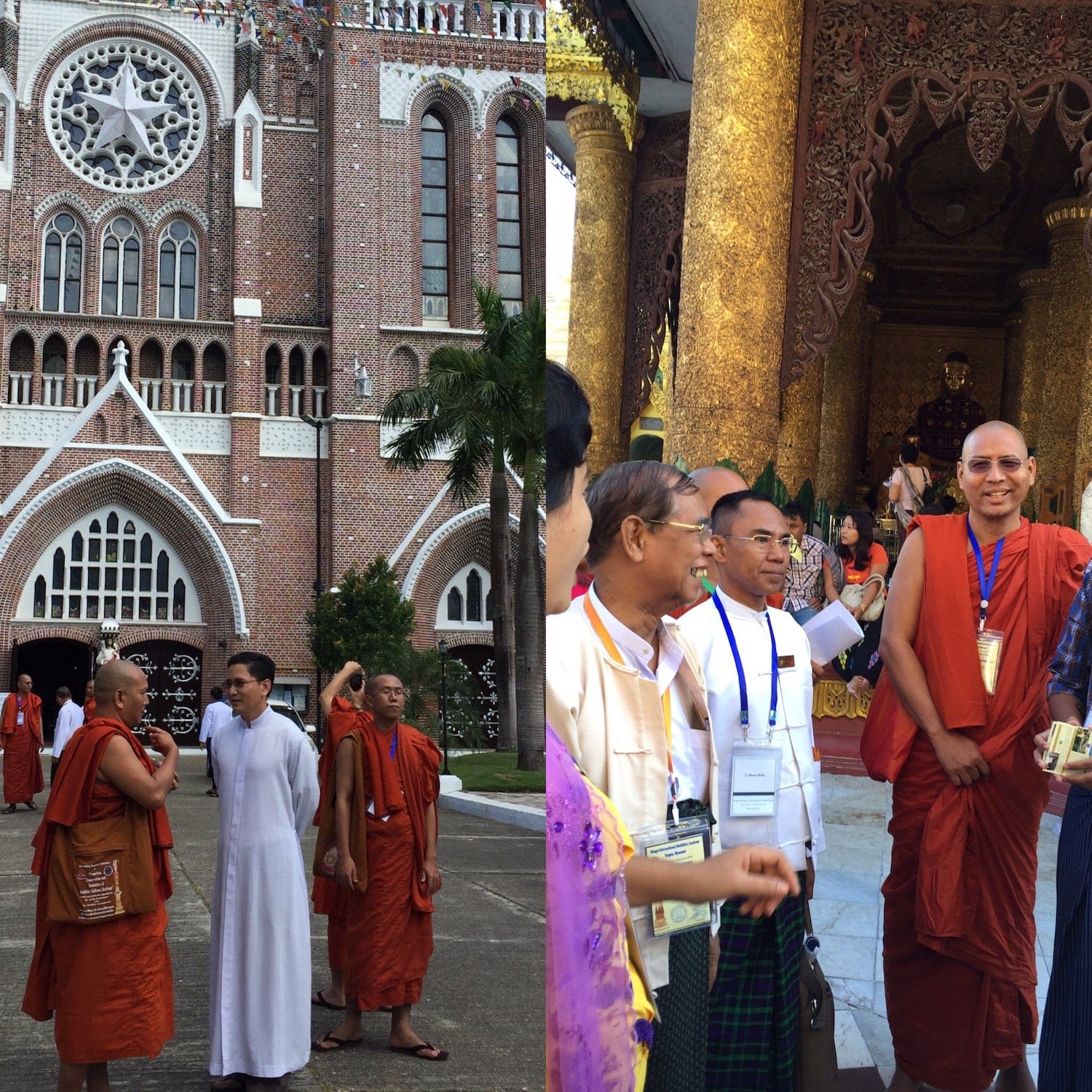 Myanmar Religion & Rule of Law training program participants embark on a study tour of religious sites for each of the country's major religious communities, opening up further opportunities for dialogue and building mutual understanding. Site visits include: the Shwedagon Pagoda, the largest Buddhist pagoda in Yangon; Sufi mosque; a Hindu temple; and, St. Mary's Catholic Cathedral.
December 7
At the first-ever Religion & Rule of Law (RROL) Certificate Training Program in Myanmar, Professor Do Quang Hung, IGE's RROL partner in Vietnam spoke about the development of the RROL field and its impact on religious freedom in Vietnam over the past 10 years. According to Professor Hung, the number of Vietnamese people that associate with a particular religion has increased and therefore the field of religious affairs and studying religion in Vietnam also continues to increase. In particular, religious conversion from traditional belief to an institutional faith and switching denominations within one religion has been remarkable. For example, according to the government's statistics from 2003 to 2014, the number of Buddhist increased from 9 million to 13 million people; the number of Catholics increased from 5.5 million to 6.6 million; the number of Protestants increased from 580,000 to 930,000 people. Likewise, the number of temples and churches being built has also increased significantly. For example, according to the government's statistics from 2003 to 2014, the number of Buddhist temples increased from 13,000 to 17,000; the number of Catholic churches increased from 5,800 to 7,400; and the number of Protestant churches increased from 226 to 600.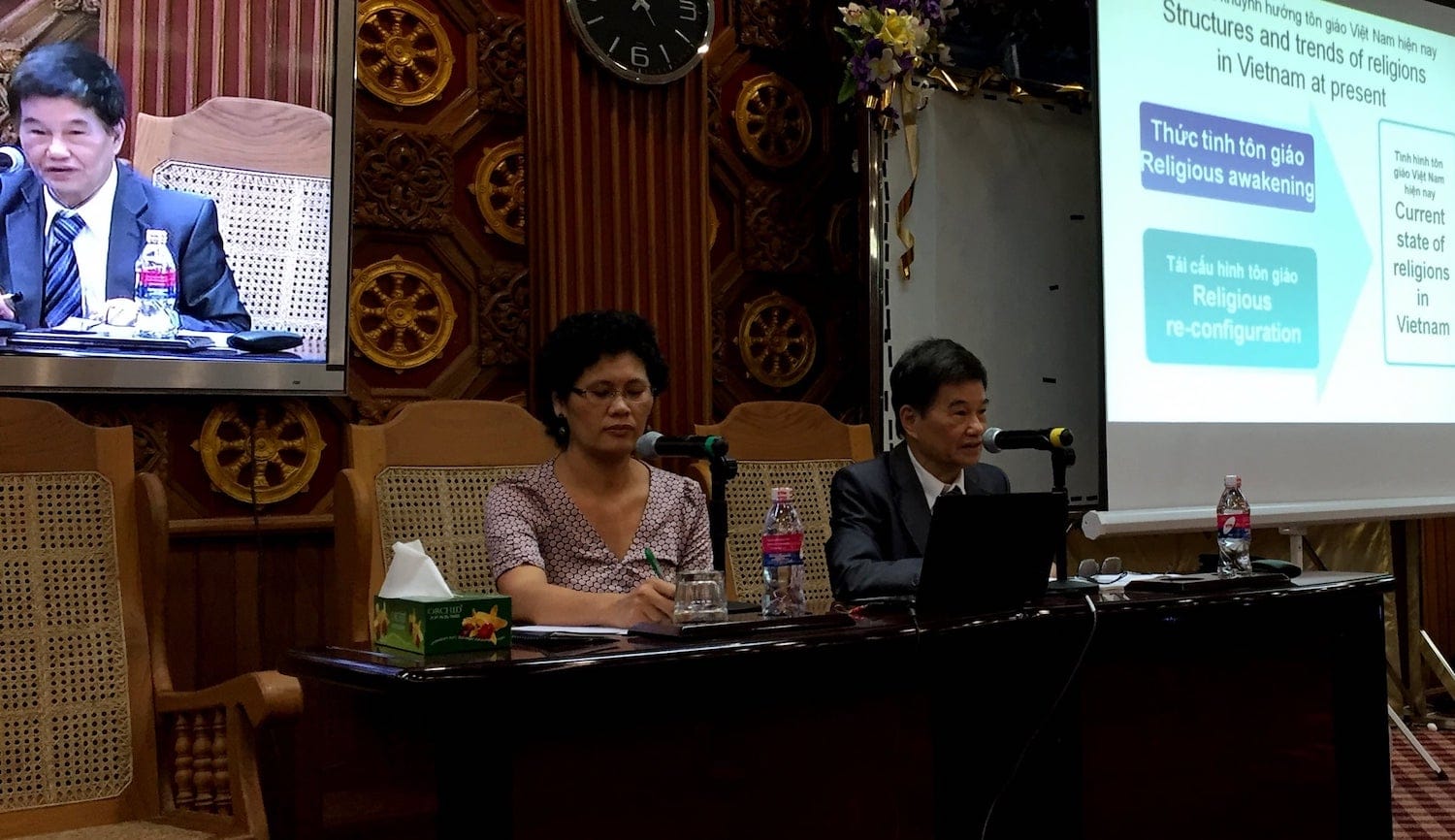 The implication of the aforementioned statistics for Vietnamese scholars and policy makers is that they must carefully study the characteristics of each religion, the social implications -- including harmony amongst religions -- religious dialogues and integration of the religions into the nation's interests, culture etc. The increase of religious life in Vietnam has challenged the policy makers and the Vietnamese government to continue building a secular and rule-of-law state.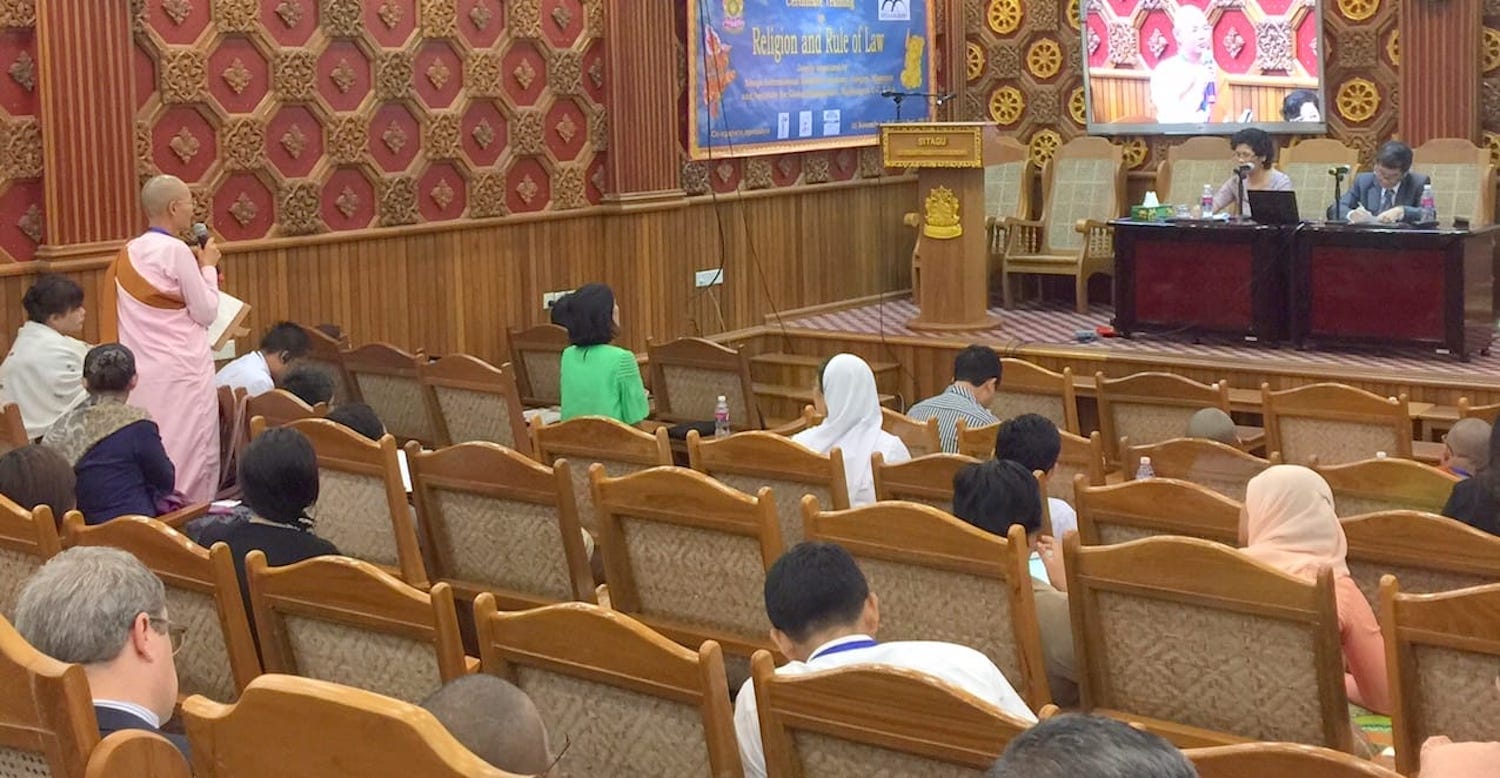 Responding to Professor Hung's presentation, participants from Myanmar showed their interest in learning about the criteria for recognition and registration of religious groups and how Vietnamese policy makers include the voice of recognized and non-recognized religious groups in the RROL field, especially during the process of drafting the first law on religion in Vietnam.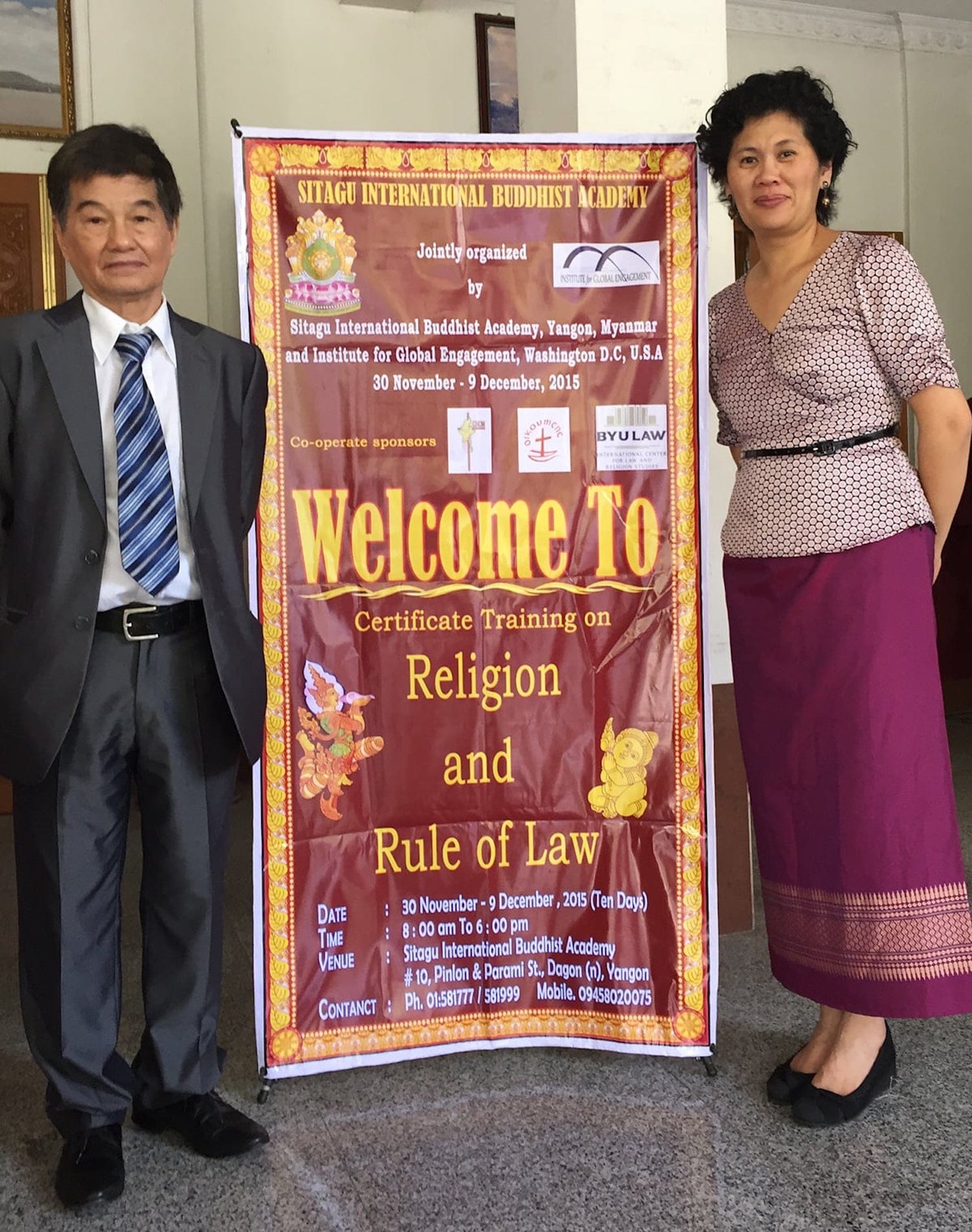 Professor Hung also saw the need for the two Southeast Asian nations, Myanmar and Vietnam to exchange and learn from each other about religious life and the RROL field.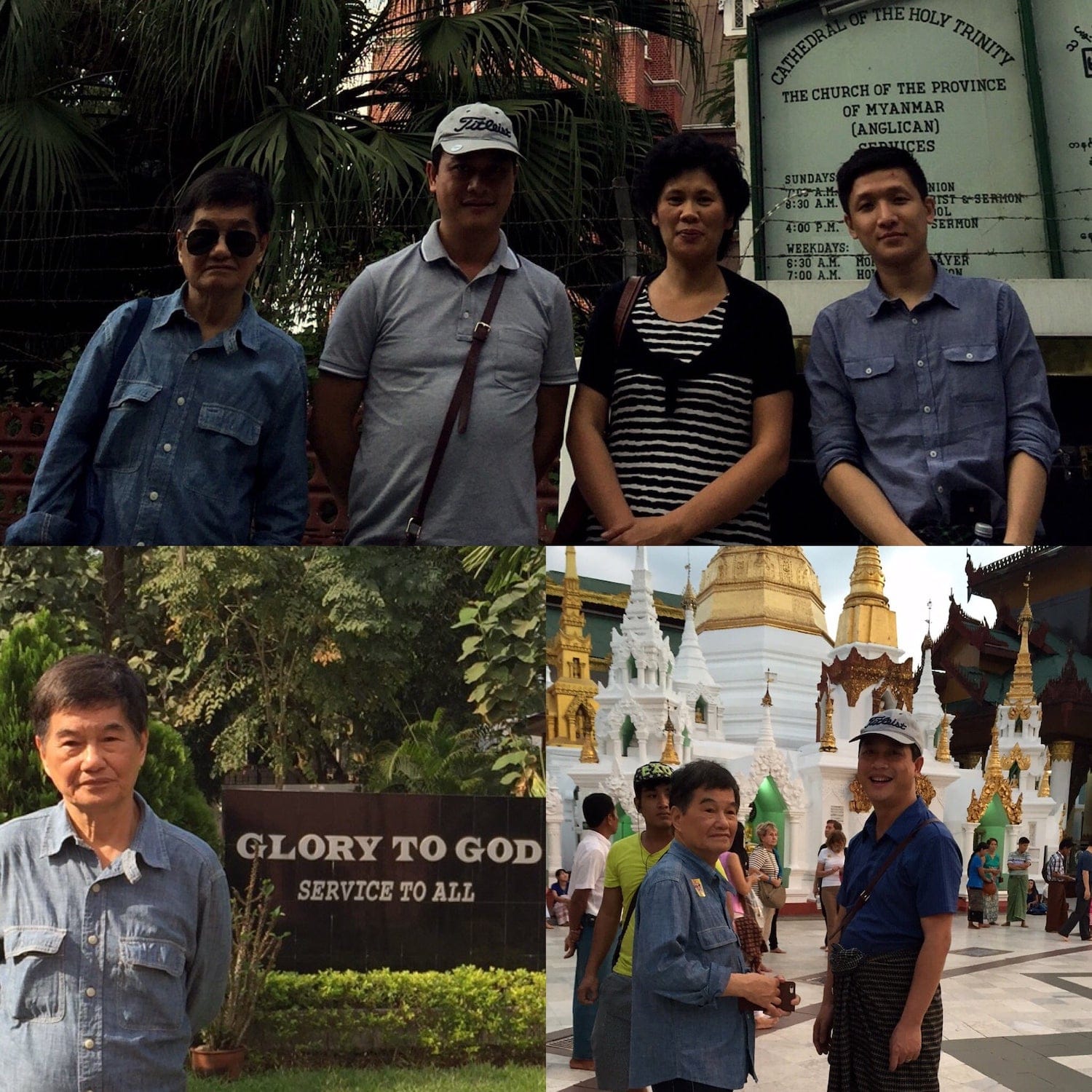 In addition to participating in the RROL certificate training program, IGE's Vietnam Program Manager, Professor Do Quang Hung and Professor Nguyen Van Hieu of University of Social Sciences and Humanities also visited religious and cultural sites to gain firsthand experience about religion and civil society in Myanmar.
December 8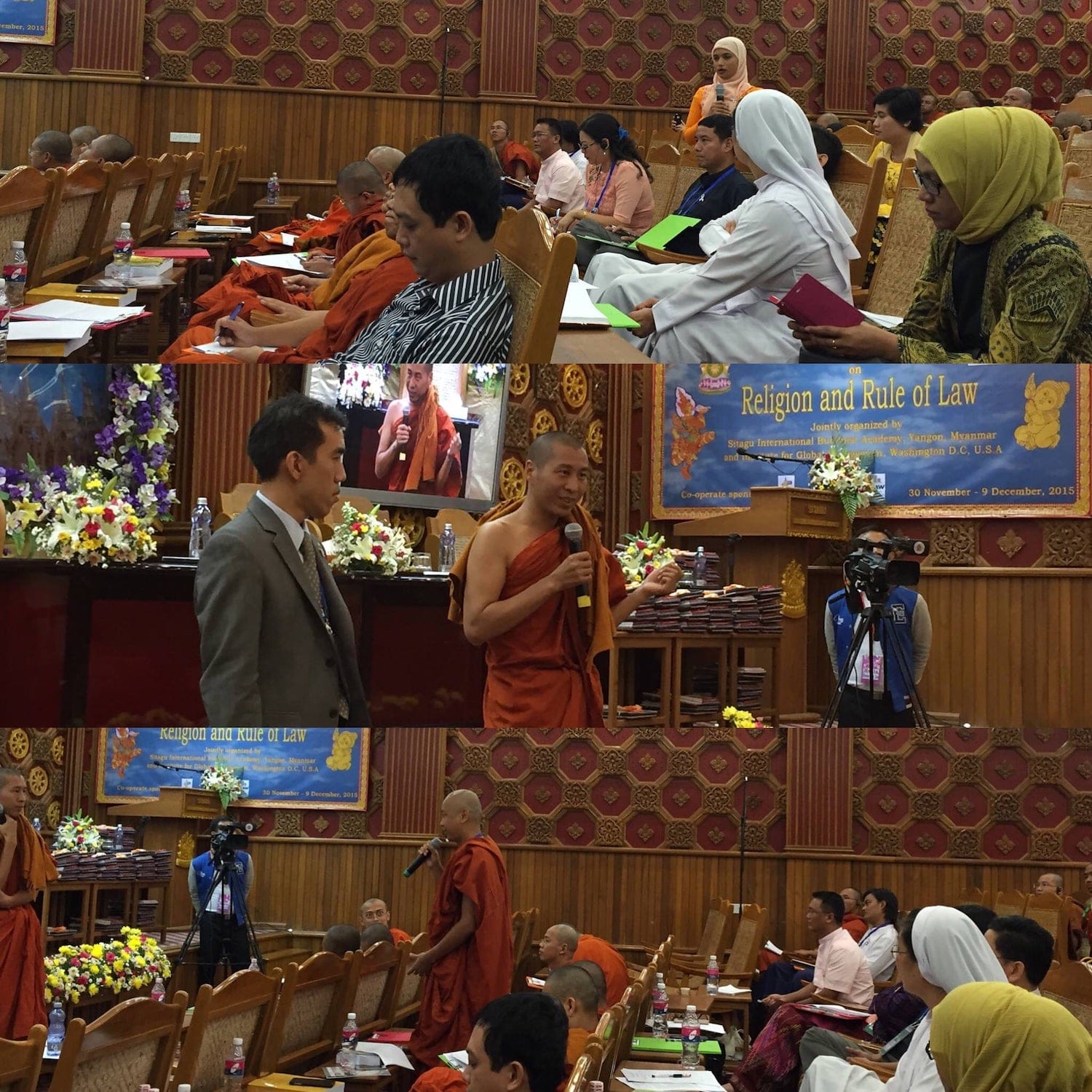 Final discussion and Q&A session at Myanmar's first ever 10-day Cert program on Religion and Rule of Law: lots of intellectual capital and love for their country. A great dialogue amongst faith leaders from various religions about religious expression and how to move forward with interfaith collaboration.
December 9
The day's dialogue session included comments from many strong women of faith speakers, participants, and observers.IGE's Center for Women, Faith & Leadership is honored to meet such distinguished women of faith as they work toward greater leadership on issues of religious freedom, conflict resolution, and peace-building.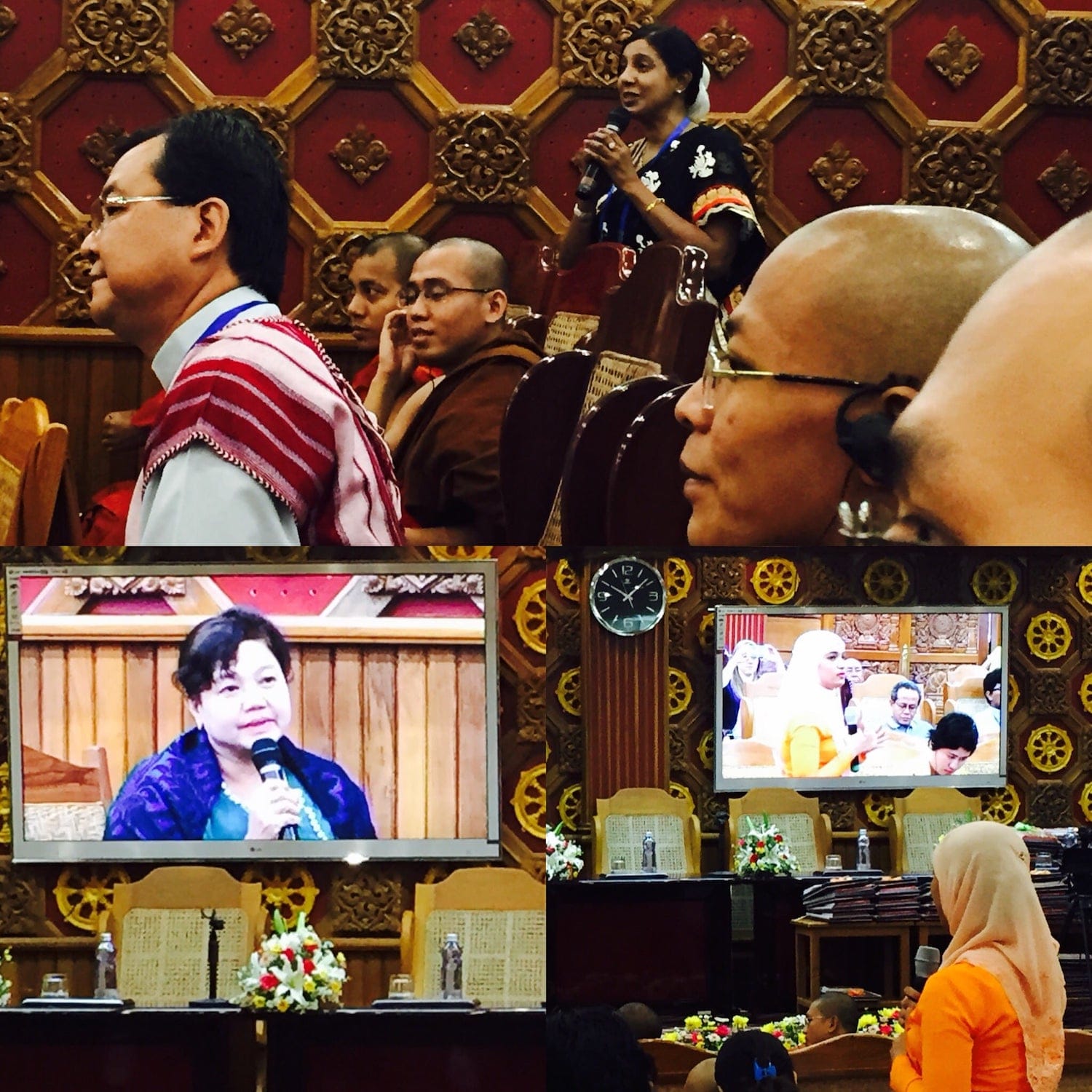 (top) A Hindu participant speaks of the importance of the "golden rule"-do unto others as you would have them do unto you. Peace like this begins in the home, when mothers teach this to their children. (left)Dr. Cho Cho Aung , a 2015-16 Center for Women, Faith & Leadership Fellow, speaks about the importance of having an open network of people within the country, where we are able to get knowledge about the other person and make peace. (right) A Muslim participant speaks about how religion can help to foster respect for all peoples, especially if uncorrupted religion is taught and positive religiosity is encouraged. She spoke about the importance of ethical leadership, and not leading people of faith astray into violence.
(top) A Buddhist nun speaks about how the Religion and Rule of Law Training Program has taken her from "a worm's view to a bird's eye view" of knowledge. She has learned the importance of networking and collaboration and their role in building trust through attitude and behavior. (left) A Catholic Sister speaks of the importance of love, respect, and prosperity in practicing our religious beliefs and proselytism. She also mentions the importance of offering children choice in their beliefs. Like a mother offering many different dishes of food to her children, people choose the taste that suits them. (right) A Christian participant talks about the importance of religious freedom and the value of an inter-faith society where people learn to respect one another. This begins with the parents who teach their children to be humble and forgiving toward those who are not like them. As religious people we must learn to take what is good about our faiths and leave what is bad behind.