IGE Holds Religion and the Rule of Law Training for Kachin Church Leaders in Myanmar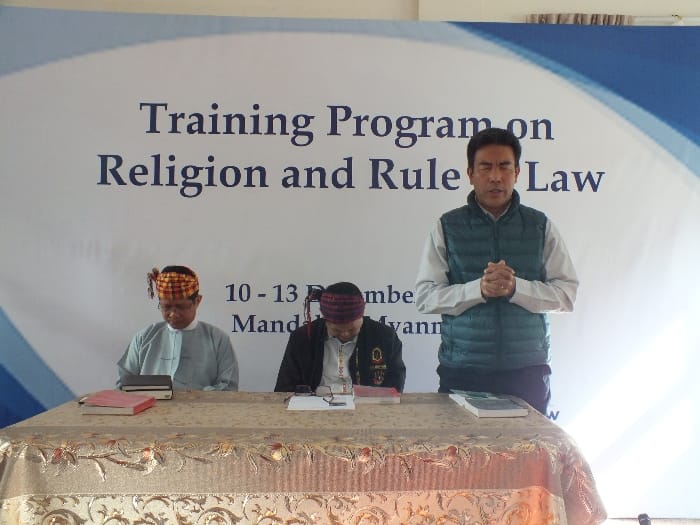 From December 10-13, 2019, the Institute for Global Engagement (IGE) held a training program for Kachin church leaders on "Religion and Rule of Law" in Mandalay, Myanmar. The program was held in partnership with the Kachin Baptist Convention (KBC) and Brigham Young University's International Center for Law and Religion Studies (ICLRS). For decades, the Kachin people have been brutalized by the Burmese military, and hundreds of thousands have been displaced from their homes. Kachin churches have also been the target of harassment, interference, and attacks by both the military and government.
The training provided a rare opportunity for Kachin church leaders to learn from international legal experts and religious freedom practitioners and receive equipping in knowledge and tools for effectively engaging governing authorities and building multi-faith alliances. There were 31 participants made up of Kachin church leaders from 13 regions across the country. One pastor shared with IGE:
"I hope we can educate more leaders in our organization with the same kind of training we received here. Thank you, the faculty, for traveling all the way and give us time for this training at this busy time of the year. We are also very happy to have our fellow pastors living in very remote and far away places such as Chi Hpwi, Nog Mung, Putao, Sumpra Bum, and Tachileik with us for the training. Some of them have to travel about three days to get to Mandalay from their areas. It is wonderful to see their interest and commitment for this training. They all are very much interested in this topic." - Rev. Dr. KD Awng Nan
This program was made possible with the generous support of the KBC and ICLRS.
For more information about the training, see this video featuring IGE's Myanmar program officer.