IGE's Work in the Middle East, "The Cradle Fund" – December 2017
---
President Emeritus Dr. Chris Seiple was in Iraq earlier this month on behalf of IGE where he met with as many folks as possible including but not limited to: ISIS survivors, government personnel, and religious leaders both in the Nineveh Plain and in Baghdad. Based off of his conversations, here are 8 recommendations about how to help. Our work in the Middle East, through our "Cradle Fund" looks forward to coming alongside and supporting several of these recommendations. Thank you for your gifts that make this work possible! 1) Relief & development work must serve all groups. 2) Narrative is crucial. Relief and development work must be done in a way that builds an inclusive Iraqi citizenship, while embodying reconciliation. Minorities are a vital and contributing part of Iraq; the media can play a key role reinforcing this fact. 3) A unified military and police command is needed, quickly, in the Nineveh Region. 4) Religious minorities want to stay (and be enabled, equipped and empowered through new administrative provinces—Sinjar for the Yazidis, Mosul for Sunni Arabs, and the Nineveh Plain for Christians, Shebak and others). 5) Reconstruction of homes is the first priority. People need roofs over their heads. And they need furniture. 6) Trauma care needs are paramount, especially for women and children. It is imperative to have whole women building whole families building whole societies. 7) Job creation is critical not only to provide dignity and a livelihood for those returning, but to prevent folks from joining the "next ISIS" because they offer more money. 8) UXO is still prevalent—from booby-trapped homes to IEDs that are still in place. A systematic effort is needed to remove the unexploded ordinance.
Below are several faces of those whom Dr. Seiple met with, and their stories.
Marleen Rauf of the Assyrian Women's Union and her executive team of volunteers. Marleen and her team had consensus about the priorities before them as their people returned to the Nineveh Plain: 1) They need reconstruction and furniture for their homes, as well as supporting infrastructure (eg, electricity and roads). 2) They need trauma care for women and kids. Many saw brutal killings as they fled, but their is also the profound loss of dignity after three years of living in tents (or if you were lucky, a "caravan," which is what we were meeting in). 3) Jobs. They don't want hand-outs. They want a hand-up.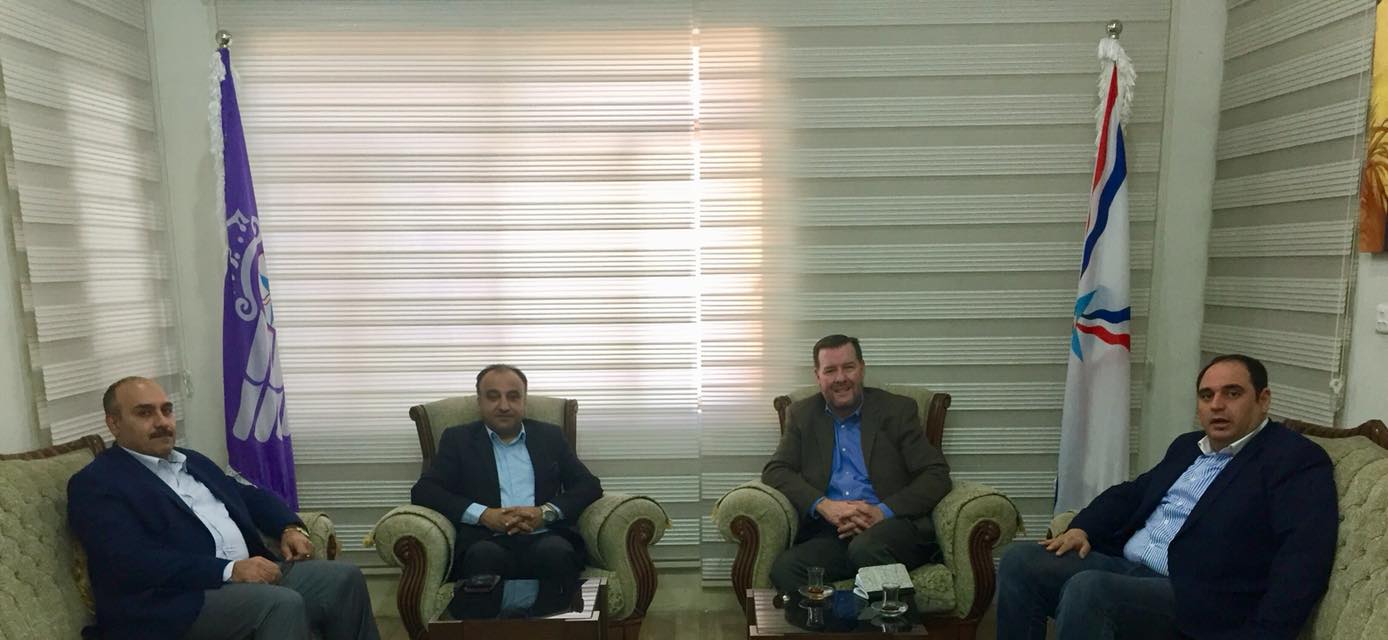 Assyrian Democratic Movement (ADM). The key is twofold, they said. Coexistence and reconciliation must be embedded in all programs. It doesn't matter what the program is, it must promote the spirit of living together.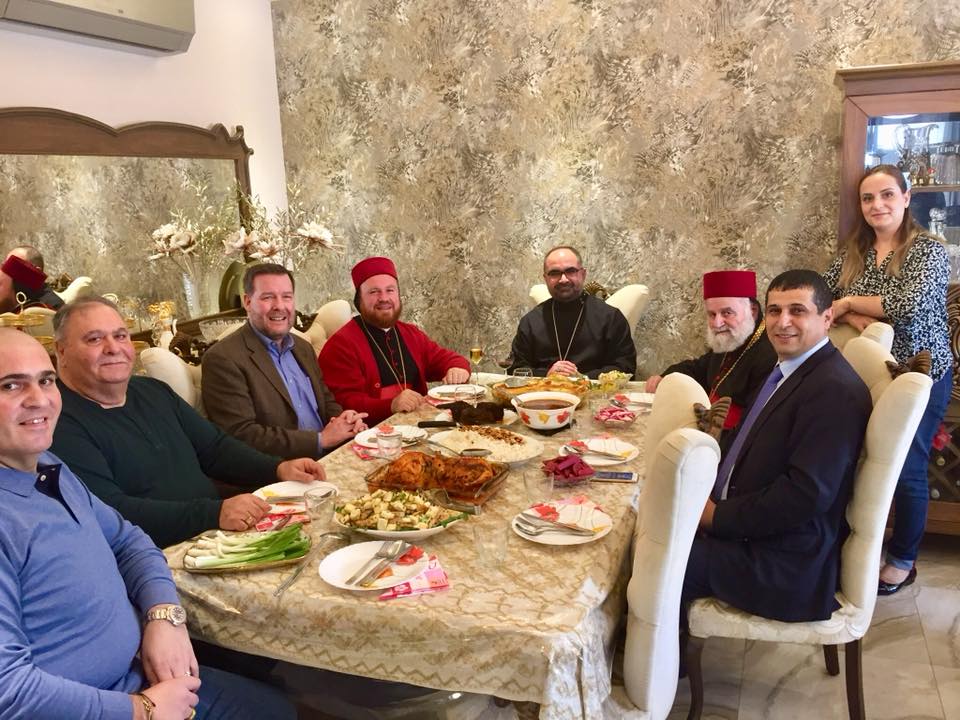 Nicodemus Daoud Matti Sharaf, The Syriac Orthodox Metropolitan Archbishop of Mosul, Kirkuk, and the Kurdistan Region and their Environs. With us is his predecessor, Archbishop Saleba sh. Ishak, Patriarchal Counselor, and Bishop of the Assyrian Church of the East, Mar Abrs Youkhanna. I asked Brother Nicodemus (in red) what the three top priorities were for the return of Religious Minorities to the Nineveh Plain. His answer: "Number One: Security. Number Two: Security. Number Three: Security."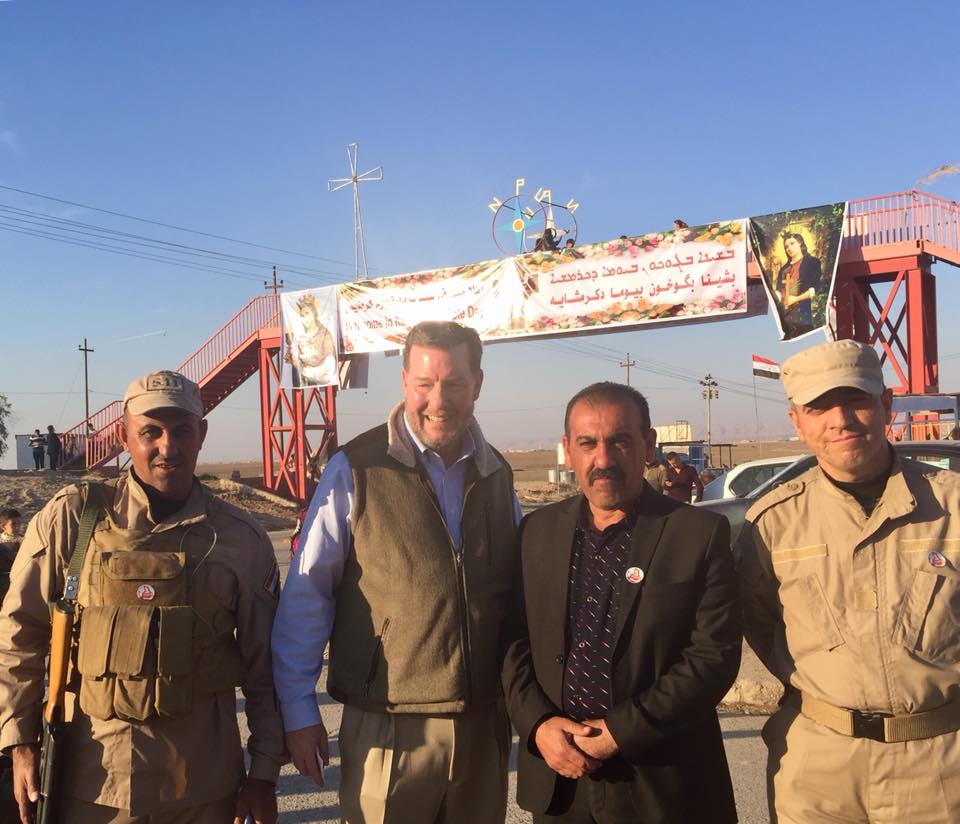 With the men of the Nineveh Protection Units (a Christian militia working with and as a part of the Iraqi Army). We happened to stop in the village of Karamles and this gentleman pictured, Jalal came up to me. He said: "I remember you. You gave me kerosene. I never forget." [in December of 2014, IGE's Cradle Fund and the Assyrian Aid Society did a food and kerosene distribution to help those who fled the Nineveh Plain, to include the village of Karamles.] So good to be blessed by his smile today, in his liberated hometown.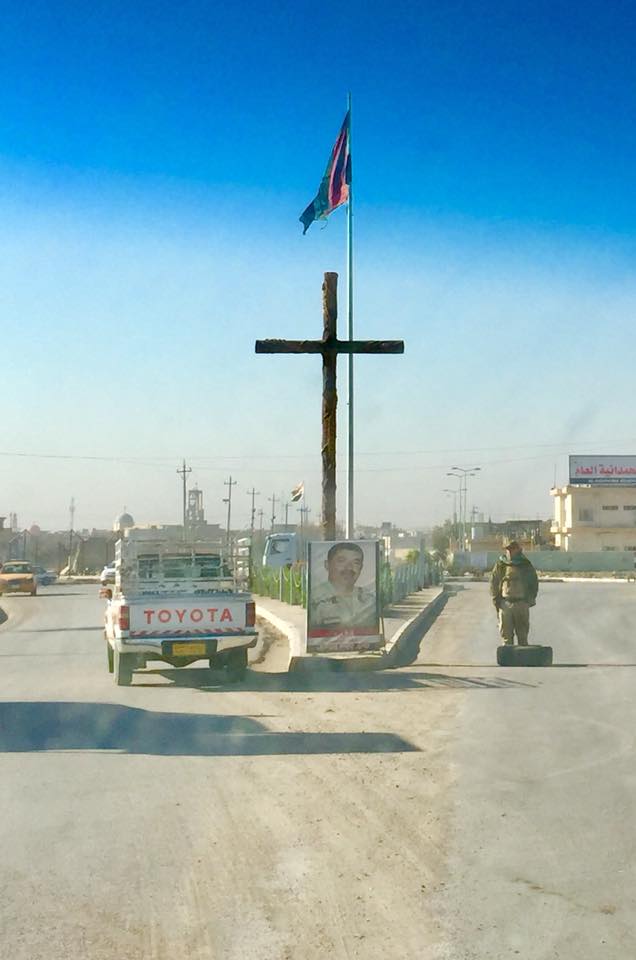 Through many Kurdish and Iraqi checkpoints on the road to, and entering, Baghdeda, which is Assyrian for "House of the One" (i.e., House of God). There were 50,000 Christians in Baghdeda before ISIS invaded in August 2014, when they all fled. In the last three months, however, 18,000 Christians have returned.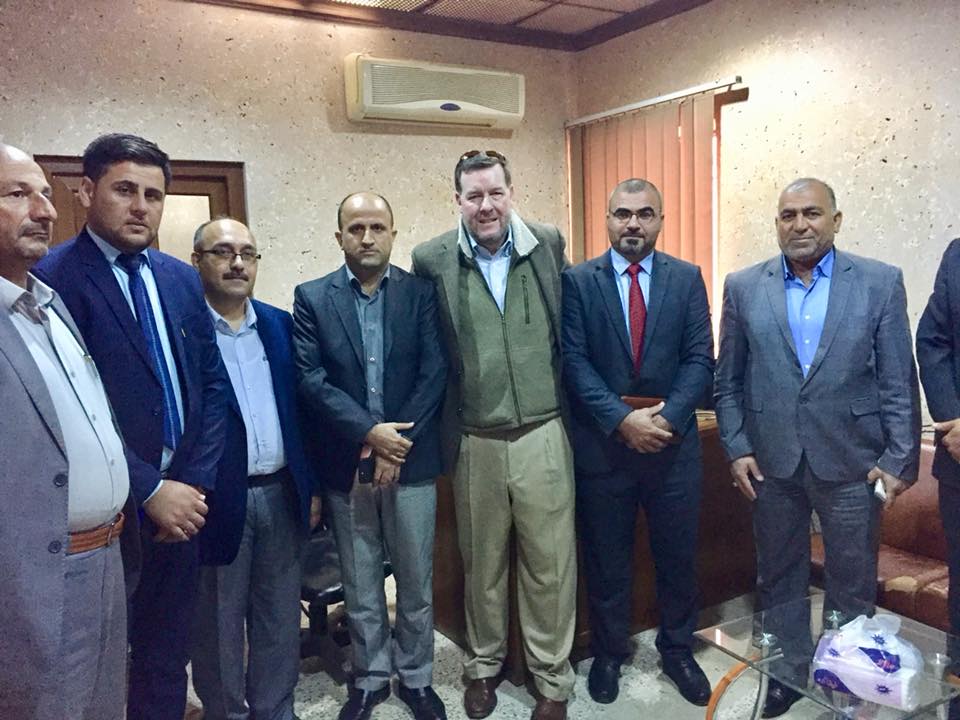 With leaders from the Shabak ethno-religious minority, representing all sectors of society; They are among the most marginalized.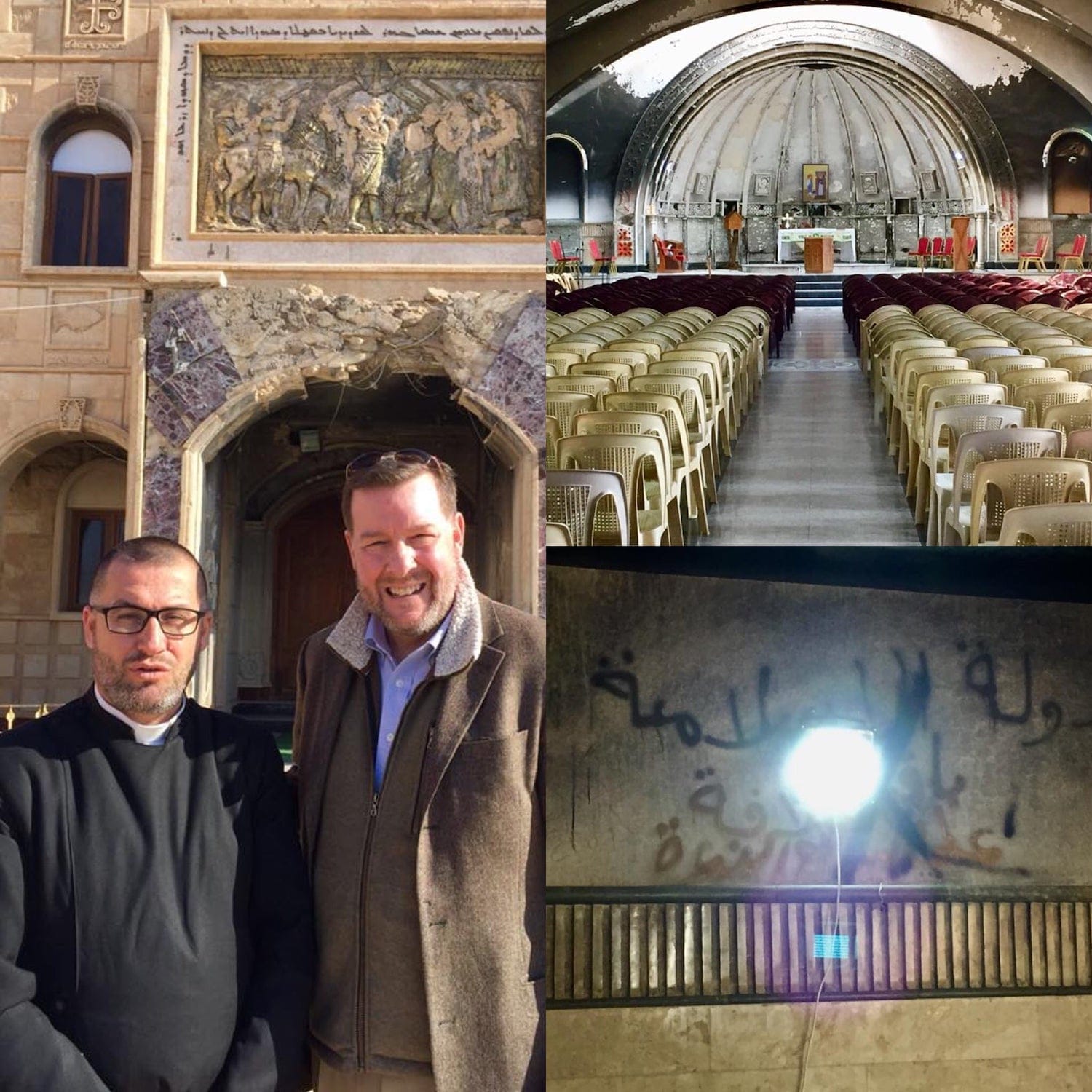 Baghdeda, in the heart of the Nineveh Plain, Iraq: this is Abuna Ignatius, priest of the Syriac Catholic Church of Behnam Sara.The Abuna and I are standing before the entrance where ISIS tried to rub out the cross and scenes from the Bible. Inside, they wrote the "Islamic State" on the walls and tried to burn down the sanctuary.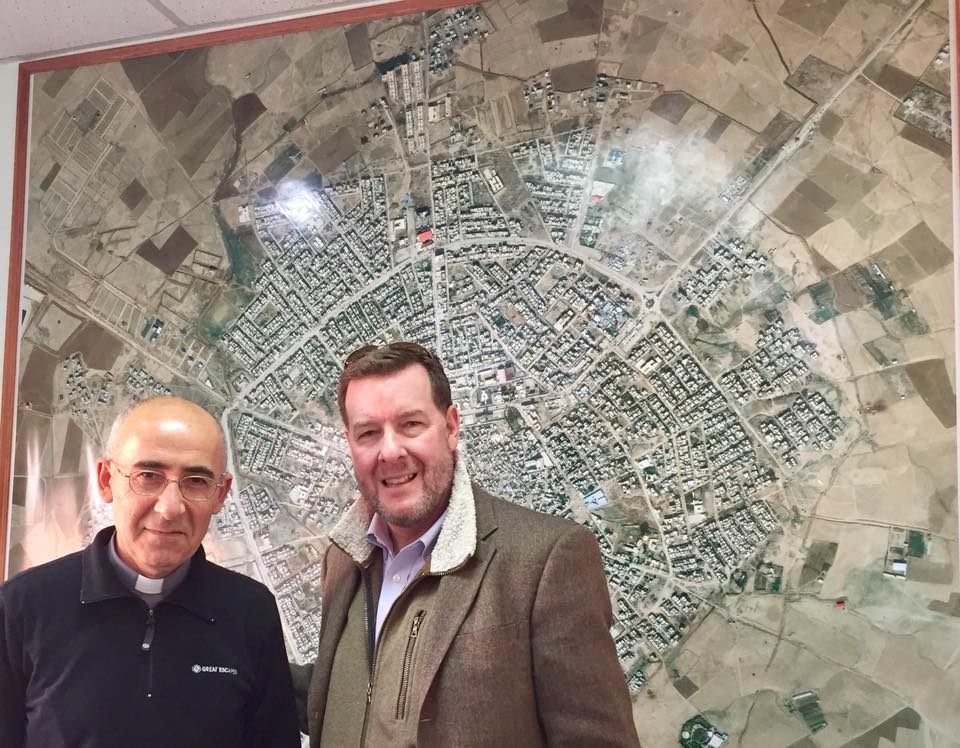 Baghdeda, in the heart of the Nineveh Plain, Iraq: this is Abuna George of the Syriac Catholic Church. He said the people are happy to return but they are traumatized and scared for their future. They are not a people who express their emotions, but he preaches hope in his homilies. The children are the most impacted as they have no sense of normal, no clear rules for what society is since seeing it destroyed before them.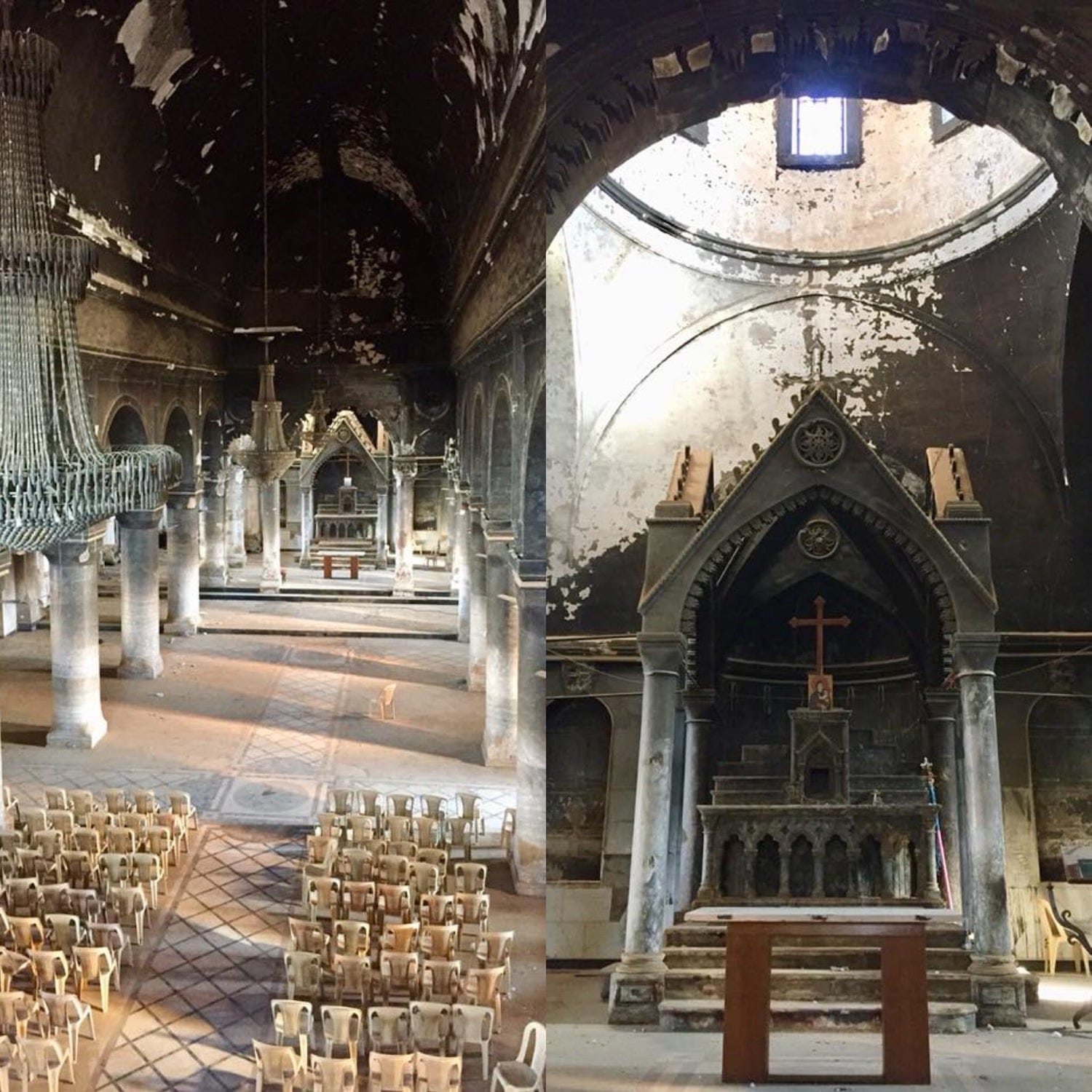 This is the Syriac Catholic Church of Our Lady in Baghdeda. ISIS used its courtyard as a firing range before trying to burn it down as they fled.
Hormizd Monastery…looking south over the Nineveh Plain.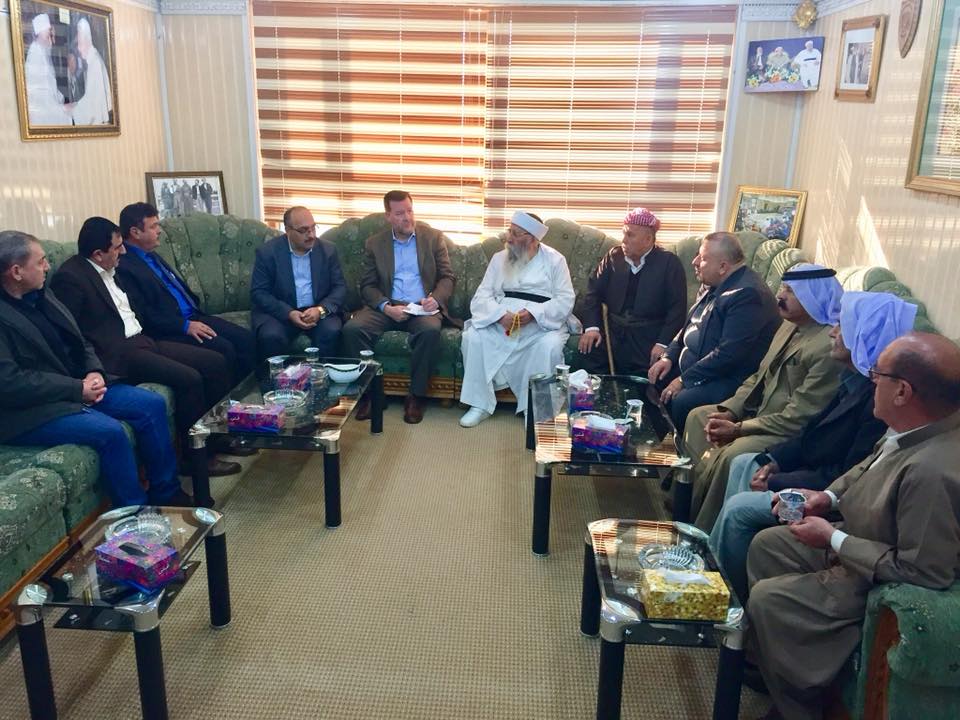 Baba Sheikh—the religious leader of the Yazidis, an ancient ethno-religious minority on the Nineveh Plain. The Yazidis are a peaceful minority who have suffered 73 genocide attempts against them. The most recent genocide was the ISIS attack on them and their homeland (centered on Mr. Sinjar), after which 250,000 Yazidis fled to Kurdistan. In order for them to return, I was told, there are four priorities: 1. The Kurdistan Regional Government should open the roads between Kurdistan and the Nineveh Plain, keeping people connected while lowering the cost of travel (30 minutes with road opened); 2. Services (e.g., electricity); 3. Security/Monitoring; and, 4. A province for all religious minorities, with a strong rule of law that builds mutual respect.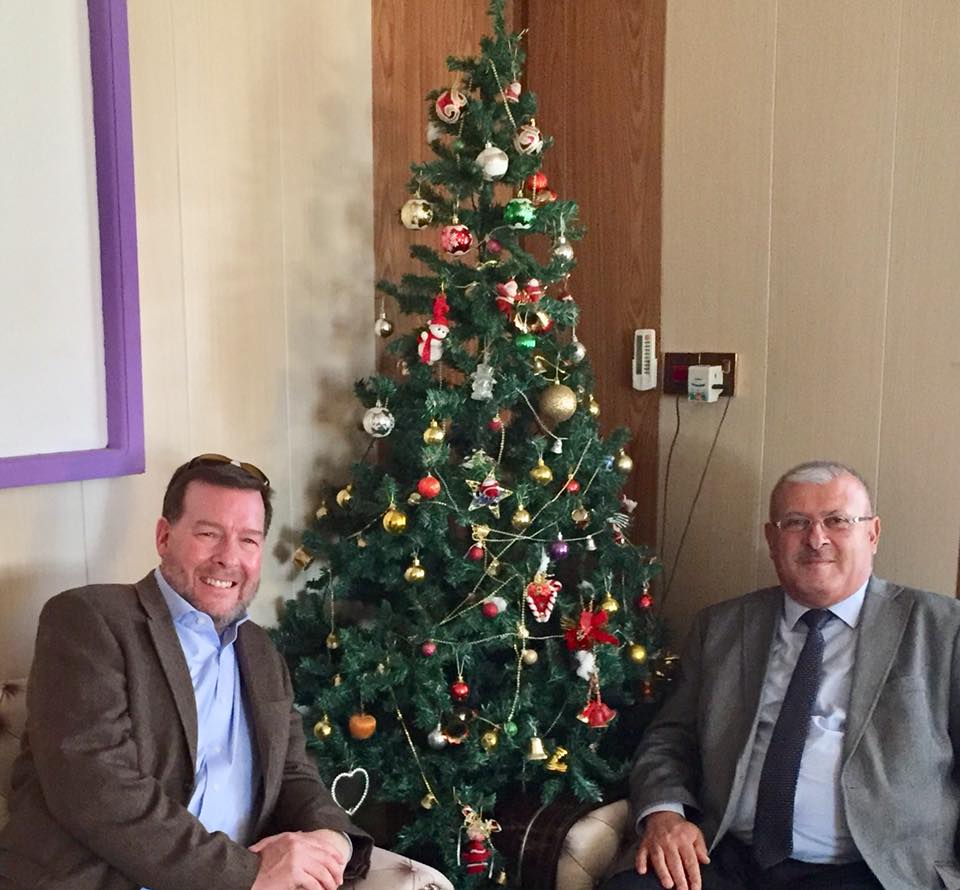 Dr. Duraid H. Tobiya, the Nineveh Agricultural manager for the Governor of Mosul. When I first met him he was Senior Advisor for Religious Minorities to the (previous) Governor of Mosul (which is always a Sunni Muslim). At that first meeting in February 2015—when ISIS was at its strongest and there was no hope for liberation—Dr. Duraid spoke of reconciliation among and between the ethnic and/or religious minorities and majority (e.g., Sunni Arabs are a minority in Iraq, but the majority in Mosul, and they suffered the most at the hands of Sunni ISIS for not agreeing with ISIS). When the Americans came in 2003, there were 50,000 Christians living in Mosul; when ISIS came there were just 2000 families left (figure 10,000). Today, 75 Christian families have returned to Mosul but only the east side (the west side is still dangerous). More dangerous, there is still a radical ideology among some Sunnis. Dr. Duraid recently told this to Prime Minister Abadi (a Shi'a) and Abadi agreed with him, arresting 11 radical imams. If more people are to return to Mosul they need: 1) Security; 2) infrastructure (electricity); and, 3) jobs. But the real issue is trust, as many Sunni neighbors betrayed their Christian neighbors to ISIS. "It is very difficult to return to trust, it is very difficult to build trust," Dr. Duraid told me. "Everything is still raw, and people are just waiting."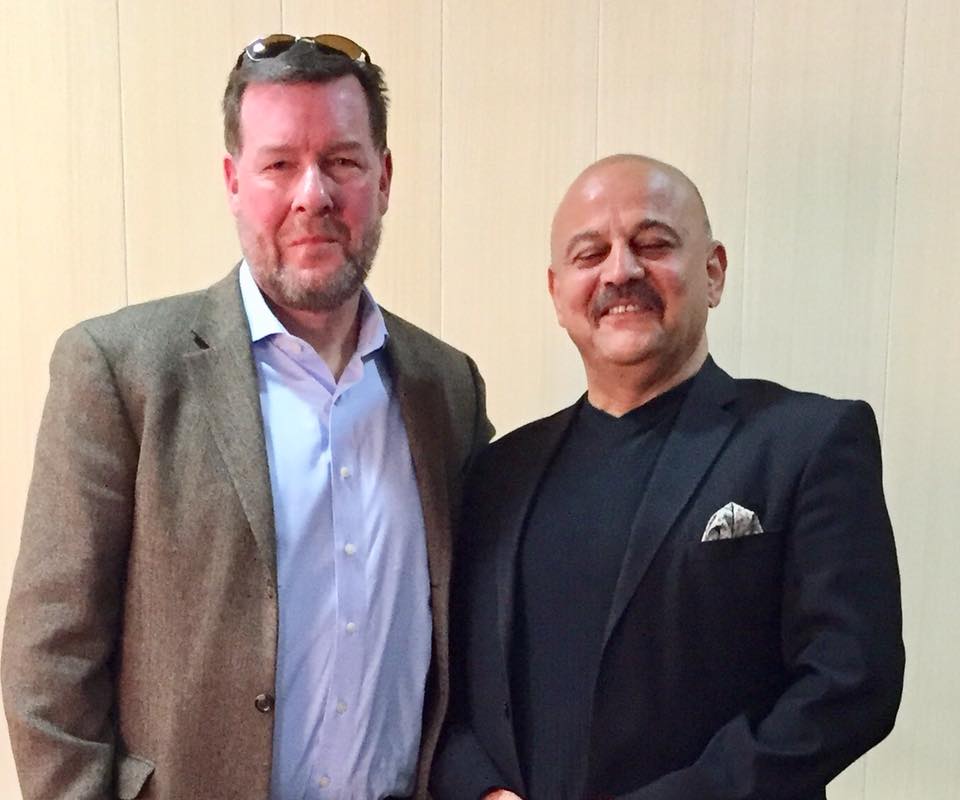 Amer Al-Bag, a retired Iraqi Air Force Officer. He made two key observations that one does not hear enough, and, ironically, are two sides of the peace-building coin. He told me: "In the Middle East we do not have a culture of forgiveness and of accepting each other. We need to build a culture on principles that unite us." But you can't have the opportunity for reconciliation without security.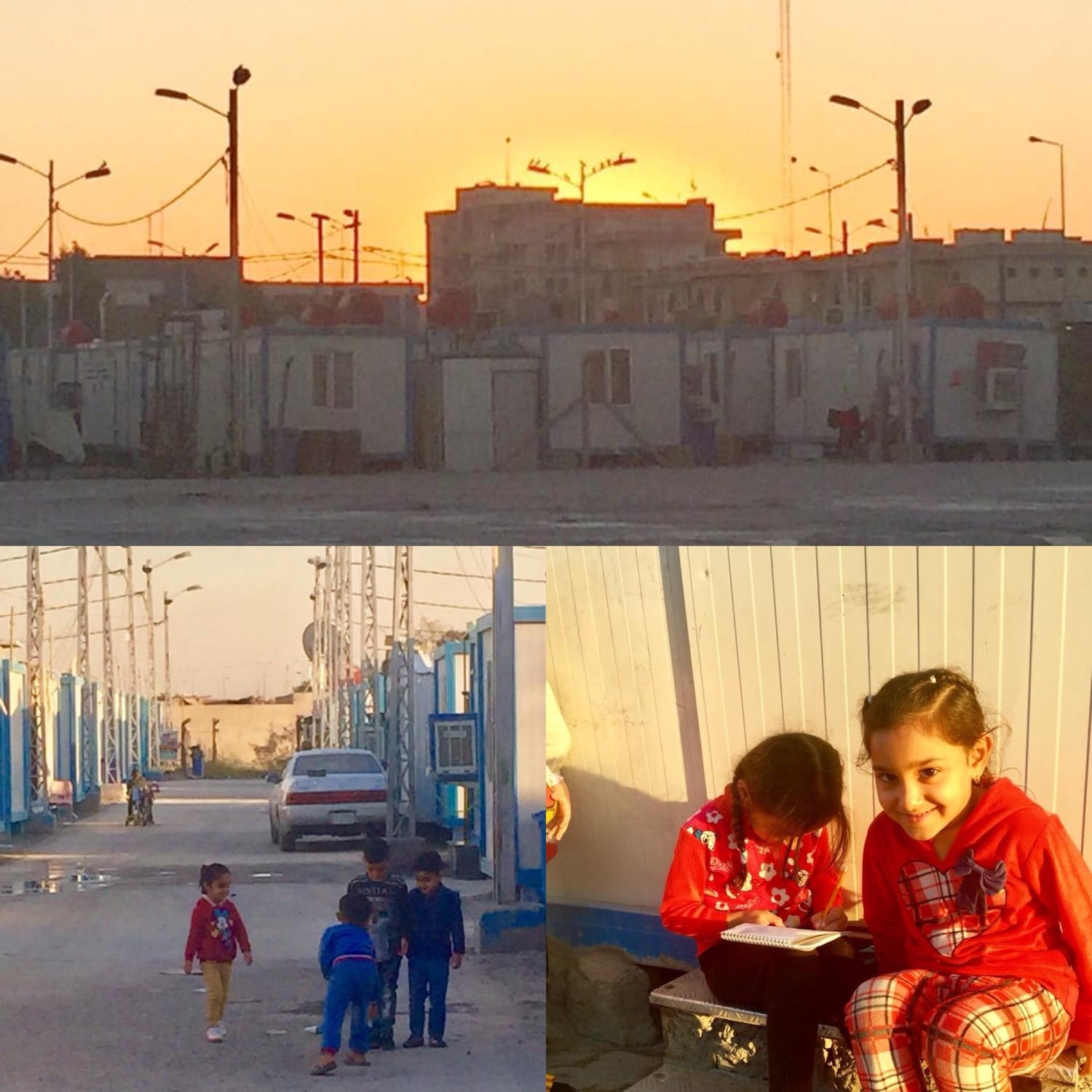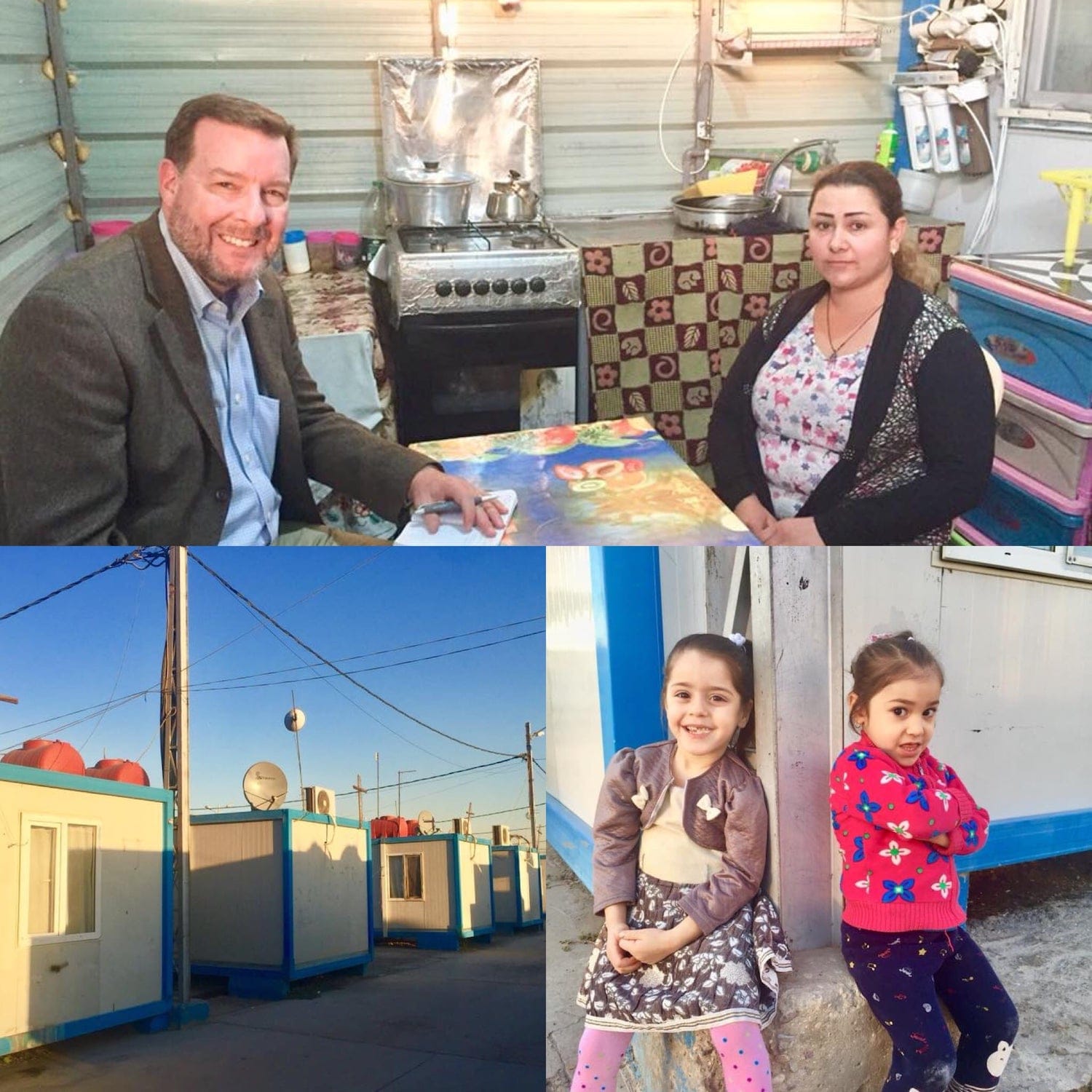 In the middle of Baghdad, visiting an IDP (internally displaced people) camp.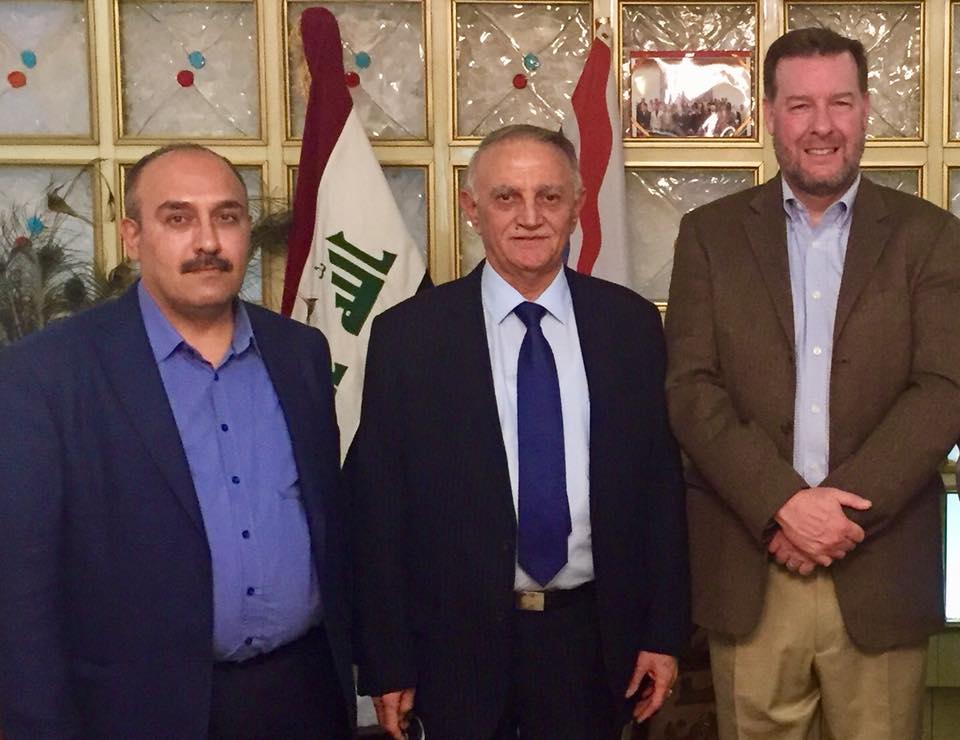 Yonadam Kanna, one of five Christian members of the Iraqi Parliament.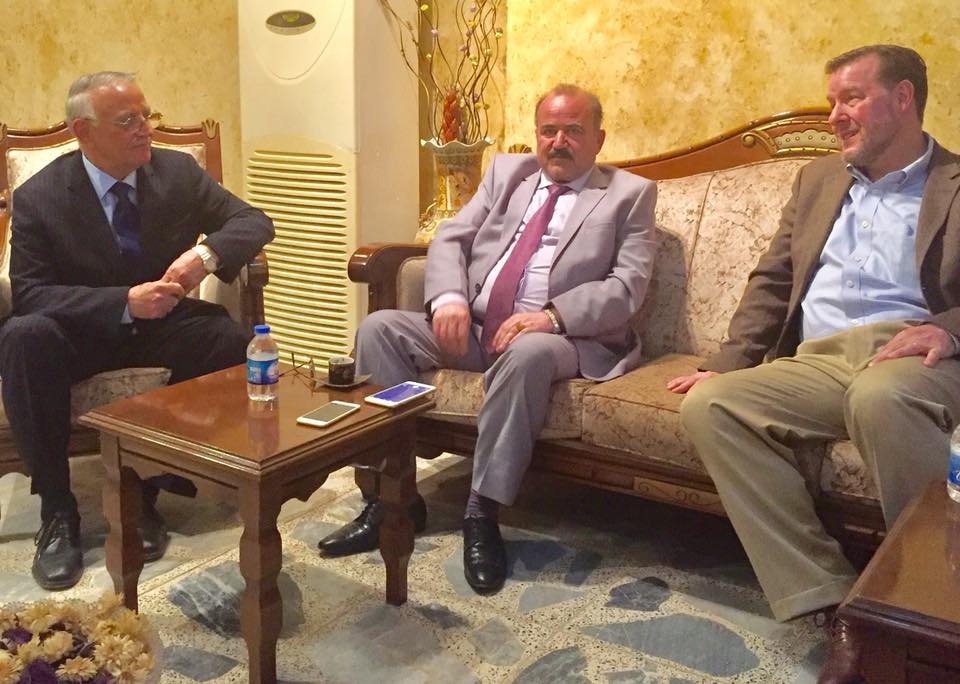 Haji K. Samo, a Yazidi member of the Iraqi Parliament. He detailed the Yazidi needs: 1. They should have their own (Sinjar) province in order to self-administrate; 2. The infrastructure needs are overwhelming with no electricity or hospitals; 3. Trauma care is paramount, especially for kids and women; 4. Over 2000 of their people are still missing; 5. Their mass graves are still uncovered (around 50 sites), with the bones still visible; 6. The Kurdish Regional Govt has still ed the roads from Kurdistan—where 250,000 Yazidis went, fleeing ISIS—making a 30 minute trip back to Sinjar into a 3 hour trip for business, kids going to school, or just staying connected; 7. There should be a unified military/police command on the Nineveh Plain for effectiveness/efficiency but also accountability; and, 8. The perpetrators of genocide must be brought to justice. "We are not seeking revenge. But there can be no reconciliation without justice."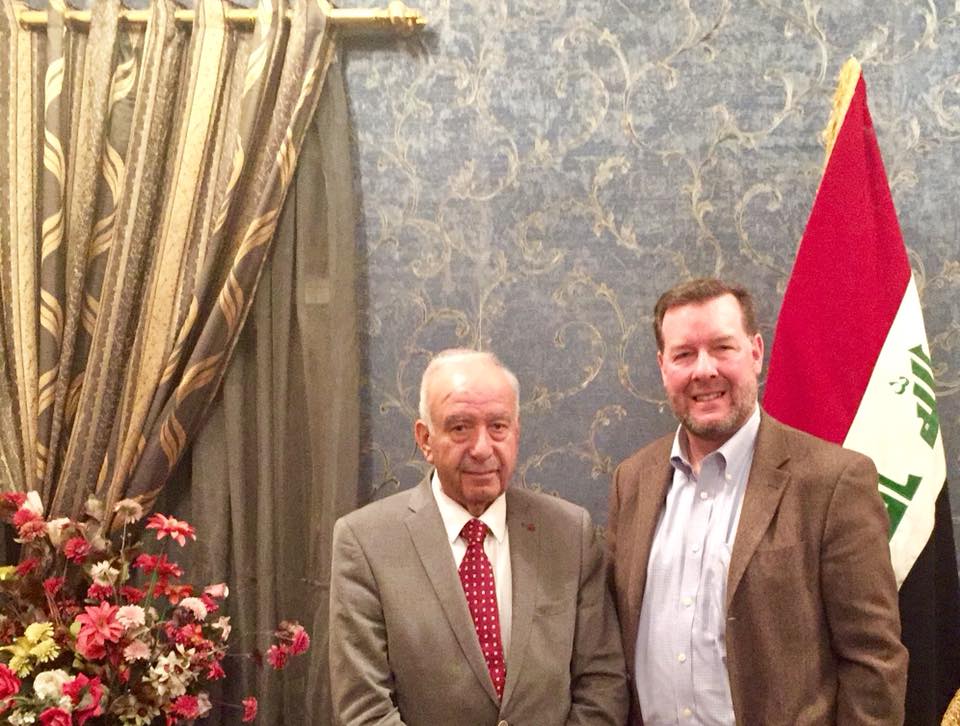 Dr. Hunain Al Qadu, the single Shabak member of the Iraqi Parliament.He feels strongly that there must be a new (Nineveh) province for the religious minorities, where a unified military/police command could ensure the strong rule of law on behalf of the Iraqi Government. But first there must be peace & reconciliation in Mosul, whose stability impacts all of the Nineveh Plain.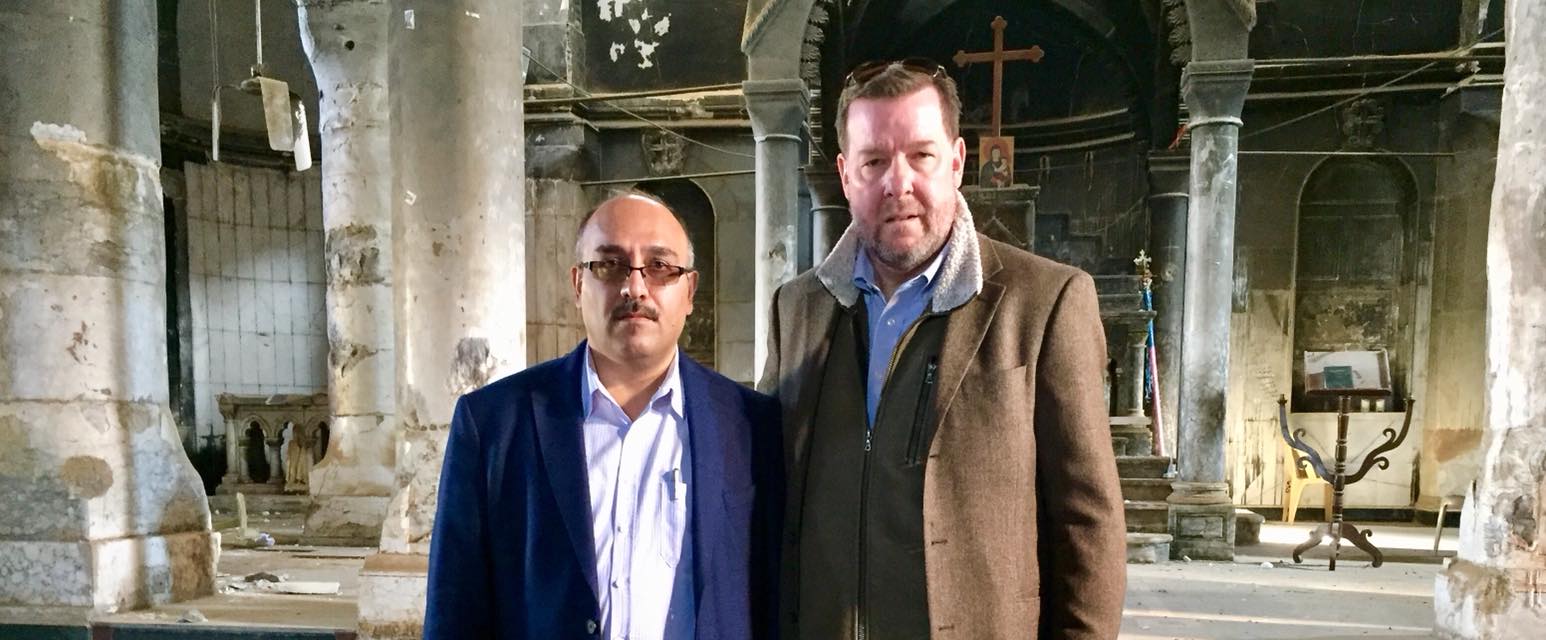 Ashur Sargon Eskrya, our main partner on the ground through Assyrian Aid Society. He is a humble Christian who serves people of all faiths and none; he is a proud Assyrian who knows his history; and he is shrewd, understanding how the real world works while maintaining his principles. We are so blessed to partner with him and AAS.