IGE Expands its Religion and Rule of Law Training Program in Myanmar
---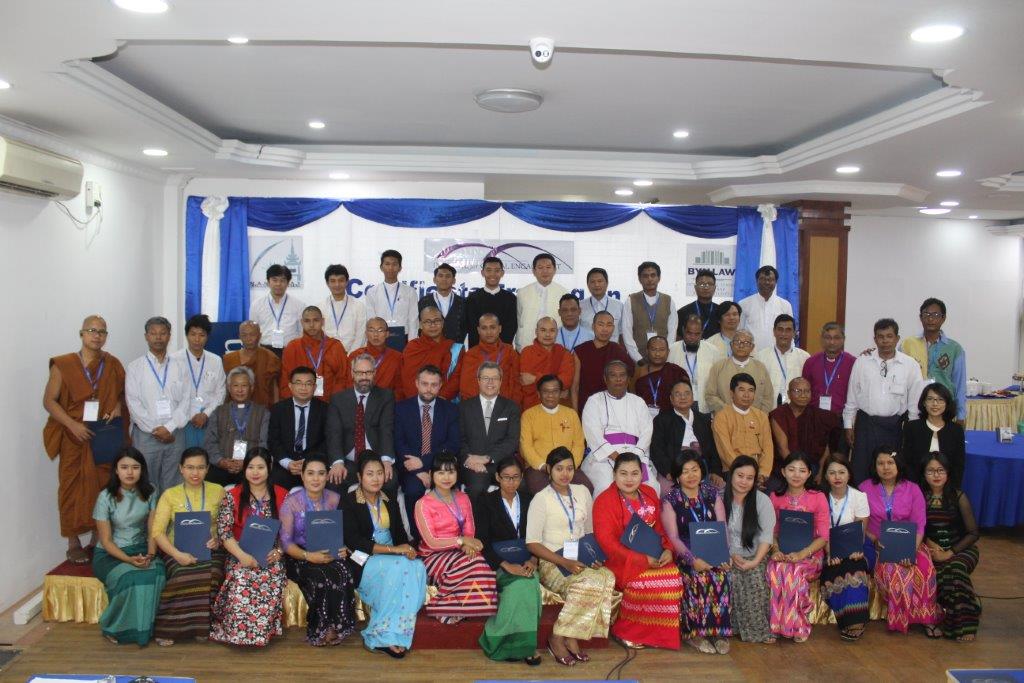 The Institute for Global Engagement (IGE), in partnership with the Mandalay Community Center in Myanmar and Brigham Young University's International Center for Law and Religion Studies (BYU), co-convened a 10-day certificate program on Religion and Rule of Law from 20 February to 1 March 2017 in Mandalay, Myanmar. The Religion & Rule of Law program was carefully designed with input from both international and Myanmar experts to explore the building s of good governance and sustainable peace in a multifaith and multiethnic context. The program also equipped participants with critical knowledge of global comparative approaches to religious freedom and rule of law.
This training program comes amidst a challenging period in Myanmar's democratic transition with crises flaring up over the treatment of religious minorities and armed conflict in ethnic regions. At this critical juncture, IGE is committed to conflict resolution and advancing religious freedom in Myanmar through relational diplomacy. This is the second such program that IGE and BYU have held in the nation. In 2015, IGE and BYU partnered with Sitagu International Buddhist Academy, the Catholic Bishops' Conference of Myanmar, and the Myanmar Council of Churches to convene the first-ever Religion and Rule of Law certificate training program in Yangon. IGE and BYU were invited by partners in Myanmar to build upon the success of this program by holding a second training program in Mandalay—Myanmar's last royal capital and the religious, commercial, and educational center of the northern region.
For the 2017 Mandalay program, lectures were delivered by scholars from Australia, Cambodia, Canada, Croatia, Singapore, UK, USA, and Vietnam, as well as by prominent lecturers from Mandalay. IGE Executive Director James Chen provided opening remarks, noting "in this global moment, it is absolutely critical that we forge models of multifaith partnership and collaboration that build mutual understanding and respect, and improve people's lives in practical ways."
Participants in the Mandalay program included a diverse group of religious leaders, civil society leaders, lawyers, and scholars from the Mandalay region. Represented among the faith communities were Buddhist monks from various monasteries in Mandalay, Pyin Oo Lwin, and Meikhtila, Protestant leaders from Methodist, Anglican, and Baptist denominations, as well as representatives from the Catholic, Hindu, Muslim, and Baha'i communities. Other participants included lawyers and legal experts from Mandalay, lecturers in the International Relations and Law Departments of Mandalay University and Yadanapon University, and leaders from various civil society organizations in the Mandalay region. In total, 39 participants completed the training. Representatives from the National League for Democracy's Mandalay regional office also attended the program to show their support for the training.
An academic conference on "Religion and Rule of Law: Yesterday, Today, Tomorrow" was held in conjunction with the training program on 25 February 2017. The conference provided a public platform for faith leaders from Mandalay to speak on challenges faced in a multifaith society. Senior legal experts from Myanmar, Norway, UK, Singapore, Canada, and the USA also shared their views on the differing needs of minority and majority groups in the ASEAN context. Over 80 people attended the conference.
IGE Program Manager for Vietnam Hien Vu also led a delegation of observers from Vietnam to the training program and conference. The delegation consisted of representatives from Vietnam National University, the National Assembly, Ho Chi Minh National Academy of Politics' Institute for Religion and Belief Studies, and the Vietnamese Fatherland Front. Professor Do Quang Hung from the University of Social Sciences and Humanities at Vietnam National University gave a presentation on Vietnam's new law on religion and belief that was passed in November 2016.
The closing ceremony was attended by officials from the Mandalay regional government. The Chief Minister of the Mandalay Region, Dr. Zaw Myint Maung, delivered a speech at the closing ceremony in which he stressed the crucial importance for the nation of high quality trainings focusing on religion and rule of law during this point in time.
At the conclusion of the program 100 copies of the Burmese translation of IGE's special issue of The Review of Faith & International Affairs on "Religion, Law, and Society in Myanmar" (Winter 2015) were distributed to participants and key organizations and leaders in Mandalay.
Following the Mandalay program, IGE and BYU convened alumni from the 2015 Religion and Rule of Law Certificate Training for a roundtable discussion on 4 March in Yangon. The meeting was hosted by Sitagu International Buddhist Academy and was attended by 10 alumni representing various faith backgrounds and international scholars from Australia, Croatia, and the U.S. The meeting provided the opportunity for alumni and scholars to update one another on their current work related to religion and rule of law and explore opportunities for future collaboration.
The Mandalay Religion and Rule of Law training program and conference was made possible with the generous sponsorship of the John Templeton Foundation. The Sitagu International Buddhist Academy also made valuable contributions via the participation of its students and by providing significant financial support.