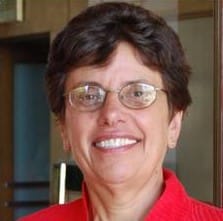 A School Sister of Notre Dame, Sister Rosemarie Nassif oversees the planning, development, implementation and evaluation of the Conrad N. Hilton Foundation's Catholic Sisters Initiative and its Catholic Education Programs. Her responsibilities are to advance the vitality of congregations of women religious globally, enabling Sisters to contribute more profoundly to human development, as well as to enhance the effectiveness of Catholic schools.
Before joining the Foundation she was senior advisor to the Assistant Secretary at the Department of Education where she had lead responsibility for achieving President Obama's 2020 College Completion Goal and advanced a wide range of policies and issues involving reform, improvement and innovation in higher education. She served as president of two universities: Holy Names in Oakland and Notre Dame of Maryland in Baltimore. She was also president of the Fund for Educational Excellence that developed a whole school reform model, which was instrumental in improving student achievement in the Baltimore city public schools.
Her other ministries include co-Vicar for Religious in the Archdiocese of St. Louis and member of the Provincial Council for the School Sisters of Notre Dame, St. Louis. She has had professional experiences in Japan, Honduras, China, Rome and Israel and has directed spiritual retreats in Africa and the U.S.
She earned a PhD in physical chemistry at the Catholic University of America. Sister Nassif has authored publications, made national presentations and received numerous fellowships and awards, including named President Emerita of Holy Names and selected as one of Maryland's Top 100 Women.