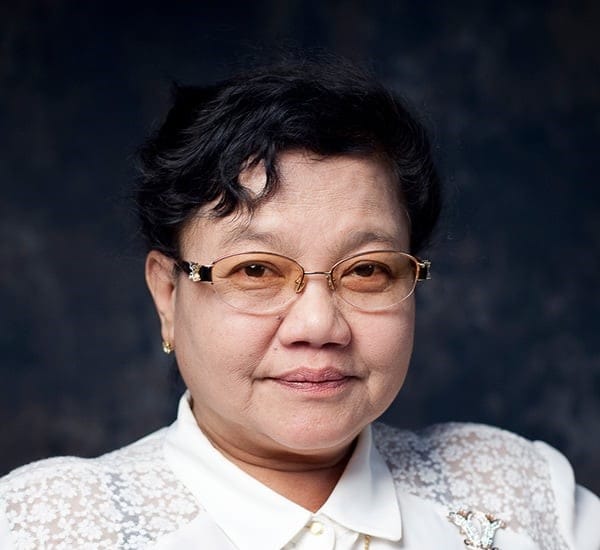 Dr. Cho Cho Aung was born on February 15, 1960 in Yangon, Myanmar. She is Buddhist and Myanmar Nationality. She receieved a B.A. Honors in 1982, M.A. in 1985, and a Ph.D. in 2009 from Yangon University. The name of her Ph.D. Thesis Title is "Myanmar Language for Foreigners".
Dr. Aung is a Professor in the Myanmar Language, Literature and Culture Department at the International Theravada Buddhist Missionary University in Myanmar. She has experience in academics for 30 years, teaching since 1985 up to 2015 as a tutor, Assistant Lecturer, Lecturer, Associate Professor and Professor at the Yangon University, University of Foreign Language and Buddhist University. She has taught Myanmar Language to over 1000 foreign students. These include both university students as well as private students from various Embassies in Yangon and Company executives at the senior levels of management. It may also kindly be noted that many professional of distinctive fields from varied INGOs have used her services for learning Myanmar Language and Culture/background.
As a University Professor and Head of Department, she has been exposed to administrative decision making apart from her routine teaching. She also serves as a Guide to many research students, a few of them who have completed and received their Doctorates.
She has an additional honorable responsibility of being the nominated Coordinator for 'Word Alliance for Buddhist Culture Exchange' (WABCE). Therein she has to do coordinative work between Buddhism in Myanmar and WABCE.
She has presented the paper at the following International Conferences:
22-12-2012 "Healthy Medicine in Meditation", China.
15-6-2013 "Buddhist Culture Flourish in Myanmar Association", Hong Kong.
25-6-2013 "The Role of Buddhist Women in Myanmar", Srilanka.
29-11-2013 "Buddhist culture and its fusion in the vision of Science", China.
9-5-2014 "Evaluation on Buddhist Education and Curriculum of International Theravada Buddhist Missionary University in Myanmar", Vietnam.
Almost all the conferences can be seen to be connected with Buddhism and Buddhist culture. Imparting true culture would make the youth of any country more productive, peace loving and duly respectful of their elders and the women.
She has two sons and her husband is also former University Teacher. They live in residence of International Theravada Buddhist Missionary University.