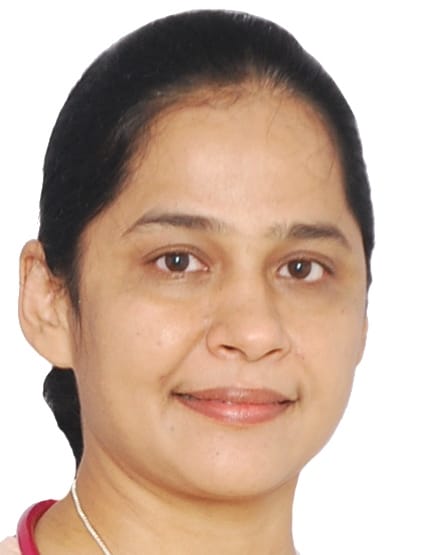 Sr. Dr. Beena Madhavath is with the Congregation of Ursulines of Mary Immaculate (UMI). She was born and brought up in a little village called Gandibagilu, in the state of Karnataka, India.
Beena obtained her MBBS and MS Degree in Obstetrics and Gynaecology from St. John's Medical College, Bangalore India. She also holds a Diploma in Minimal Access Surgery and a Fellowship in Laparoscopic surgery from Kiel University Germany. She is the recipient of the Sr. Dr. Mary Glowery Scholarship from Catholic Health Association of India, which gave her an opportunity to pursue a short course from Melbourne University Australia on Health Care Design and Implementation. Upon completion of her post-graduate degree, MS (OBGYN), she joined the Holy Family Hospital Mumbai-India in 2008. She was the Medical Superintendent and DNBE coordinator of the hospital for 5 years. Currently she serves as the Deputy Director of the Holy Family Hospital, Consultant Gynaecologist and teacher for post-graduate medical training.
She was appointed as the Provincial Councillor for Medical Apostolate of Sacred Heart province of UMI Sisters (2016-2022), the highest decision making body of the province. Beena Madhavath, was elected as the National President of the Sister Doctors Forum of India (SDFI), an association of thousands of Religious Sisters who are also professionally qualified medical doctors belonging to one hundred and twenty-three Religious Congregations. Beena is a board member of the Catholic Bishops' Conference of India-Coalition for AIDS and Related Diseases (CBCI-CARD) and the Christian Coalition for Health –India (CCHI). She represents the UMI Congregation in the Catholic Health Association of India's (CHAI), National Steering Committee. She is an honorary invitee to the CBCI Society for medical education (St. Johns Medical College Hospital) from 2019 to 2021 and Secretary of Health Commission of the Mumbai Arch Diocese.